On Friday December 13th, 2014 War Resisters League was happy to gather friends and allies across generations at the Sixth Street Community Center in NYC to honor Joanne Sheehan with our first-ever Ralph DiGia Award.
On this cold winter evening, warm company and memories were shared in celebration of Joanne's vital contributions to building bridges across movements toward a more just and peaceful world: as an organizer and nonviolence trainer, an internationalist leader and former Chair of War Resisters International, a feminist, and an exemplary model for joy and generosity of spirit as guiding principles in the work of Revolutionary Nonviolence.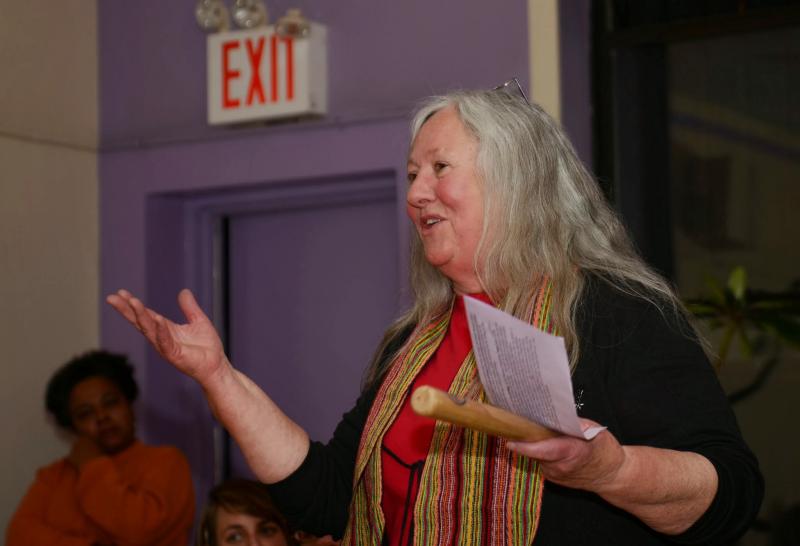 WRL Organizing Coordinator Kimber Heinz served as the MC for the evening and inspired tributes were shared by long-time WRL members Mandy Carter, Dorie Wilsnack, and David McReynolds, and from Susan Kingsland as a representative of War Resisters International and WRL's Administrative Coordinating Committee. After Joanne was presented her award – "The Ralphie" in the form of an engraved Mets baseball bat – and addressed her friends, Rick Gaumer noted the momentous occasion of their 40th year of partnership with a loving tribute.
War Resisters League has been truly privileged to share in the presence, work, and learning of Joanne Sheehan and Ralph DiGia, for whom we launched a new tradition on our 90th Anniversary year and on his birthday. Our movements to build a future without war and violence are stronger and more vibrant because of them.
(Photos by Ellen Davidson)