WRL's work is directed by its highest decision-making body, the National Committee (NC). The NC meets twice a year and has a New York-based Administrative Coordinating Committee that meets more frequently.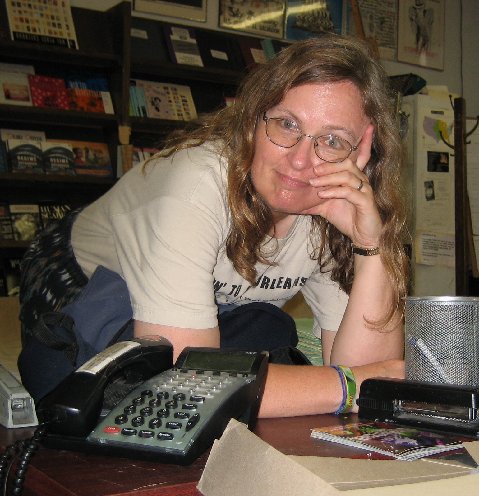 Ellen Barfield
Ellen Barfield has been a full-time peace and justice activist for nearly thirty years. In addition to being on the board of the War Resisters League, Ellen is the coordinator of the Veterans for Peace Baltimore Phil Berrigan Memorial Chapter, and works on national committees of VFP, Women's International League for Peace and Freedom (WILPF) and School of the Americas Watch. She served in the U.S. Army from 1977-1981.
Mavis Belisle
Mavis has been involved with War Resisters League since the 1970s, including previous terms on the National Committee.  
She was a board member of the Dallas Peace Center, director of the Peace Farm outside the Pantex nuclear weapons plant near Amarillo for more than 16 years, and has led civil disobedience activities in several places in Texas, including opposition to the Comanche Peak nuclear power plant.  Mavis serves on the board of the Alliance for Nuclear Accountability, and the Dallas Peace and Justice Center, where she is active on the human rights at home committee, which includes a focus on the militarization of police. Mavis lives in Dallas.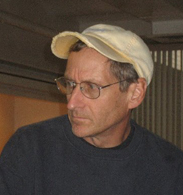 Rick Bickhart
Radicalized during the early 70s, discovered WRL in 1982 and have never left. Started out as a dairy farmer but for the last 35 years have made a living as a graphic designer and art director, prefer to be hiking in the mountains rather than in front of this damn computer where I am too often, father of two beautiful daughters, lucky partner to my very best friend, war tax resister and anarchist because I have to be, volunteer at local homeless shelters and food banks, jazz gives me comfort, can't wait to put in the garden, love a good mystery or a good political essay, don't bother with TV but can't wait to see the next good movie, and hope to someday to have a fraction of the courage of Ralph DiGia. WRL is my political home and home to many very fine friends.
Matthew Daloisio
After graduating Loyola College in Maryland, Matthew Daloisio worked with AIDS advocacy organizations in Boston, MA and then lived at Haley House, the Catholic Worker in Boston. He currently works with the GI Rights hotline, the War Resisters League, and the Kairos Community in NYC and is an associate editor of The Catholic Worker newspaper. Matthew and his wife Amanda live in New York's East Village.
Robindra Deb
Robindra is part of the organizing collective of South Asia Solidarity Initiative (SASI), a New York based organization that works to connect mostly South Asian activists in the NY area with activists and grassroots struggles taking place in South Asia. SASI is currently active in fighting the spread of right wing religious nationalism, militarization, and state repression taking place in South Asia, while also working to counter the efforts of the supporters of these trends who are active in the South Asian diaspora. Much of Robindra's earliest political work centered around challenging US imperialism and organizing against police brutality. Robindra is eager to be a part of the War Resisters League as he is excited about working within an organization whose antiwar politics is grounded in anti-imperialism and that also has a focus on resisting militarization and state repression within the United States as well as abroad.
J Wade Hannon
J. Wade Hannon, a Citizen of the Cherokee Nation, was born in Parsons, Kansas. He grew up in Edna, Kansas in a working class, mixed-blood family (Cherokee, Irish, Dutch, German and English). Wade has been a counselor, tenured college professor, union organizer, adult educator, mediator, poet and painter. He has published a book of poetry and written many articles, book chapters, and academic papers. He has been involved in a variety of community, professional, political and labor organizations and has held a wide variety of offices. He was the Co-Founder and Spokesperson of the Red River Anti-War Coalition in Fargo, ND. As a member of the Chicago WRL he was the representative to the group that carried out the protest against NATO and G8. At the age of 15 Wade became a pacifist. He has been committed to nonviolence since then. His goals in life are to help usher in a rational, peaceful and egalitarian world were all beings are valued and respected. Wade is currently an artist and poet who lives and works in Tahlequah, OK.
 
Sarms Jabra
Sarms is a refugee of the Gulf War, a talented organizer and strategist currently working as a project manager for the City of Detroit. As a Challenge Detroit Fellow, he serves as a consultant to social organizations in the city. Sarms is a member of a National Lawyers Guild, a member of the Iraqi Transnational Collective, which recently raised hundreds of dollars to support The Organization of Women's Freedom in Iraq.
Noura Khouri
Noura has worked for the past two decades as a human rights activist, campaign strategist and community organizer. She lived in Palestine where she gained invaluable campaign and human rights experience, and in Egypt where she went to witness the revolution. Prior to that she led the Middle East Peace Program for American Friends Service Committee, as well as with many other successful campaigns and orgs, including: Stop Urban Shield Campaign, Green Party of Alameda County, Peace Action West, International Solidarity Movement and Badil Resource and Refugee Rights Center.
Noura is an Organizer with Faith Alliance for a Moral Economy (FAME), which is a program of East Bay Alliance for a Sustainable Economy (EBASE) in Oakland-where she currently works on creating intersections of faith, labor and the community - to build bridges and destroy walls.
.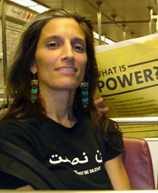 Susan Kingsland
Susan has worked for many years in a range of international peace movements, including the Central America solidarity movement and movements in solidarity with the Palestinian people.  She was part of the group which produced and advocated around the "We Will Not Be Silent" tshirts, written in English, Arabic and Hebrew. She has worked in a number of housing advocacy organizations and is currently Director of HR and Operations at Brooklyn's Fifth Avenue Committees. Susan is a member of WRL's Personnel Committee and is our representative to War Resisters International.
 
Ramah Kudaimi
Ramah is the Director of Grassroots Organizing at the US Campaign for Palestinian Rights, where she works on BDS campaigns in support of the global struggle for freedom, justice, and equality. Ramah serves on the board of the Washington Peace Center and is a member of the Muslim American Women's Policy Forum. She has been active with other community organizing and antiwar groups including the Arab American Action Network and CODEPINK: Women for Peace and has worked on projects to fight back against Islamophobia. Ramah comes to the War Resisters League with a strong commitment to resist war and to make the necessary links between racism and militarism at home with destructive wars abroad. Ramahs's work to help found the Syrian Solidarity Collective highlighted for her the importance for antiwar movements to be clearly and principally against all oppressive regimes and structures and the essential need to follow the leadership of impacted communities in order to truly achieve collective liberation.
Frieda McAlear
Frieda comes to WRL excited because of its long history of working at the intersections between fascism, repression, war, and acknowledging everyday forms of social control - sexism, racism, classism, among many others. Long before the "War on Drugs," or the militarization of the U.S. police, her mother mom and other members of her tribe [Inupiaq] worked tirelessly for sovereignty from the U.S. Government and its extractive economy. Inspired by her mother's resistance, Frieda became involved in nonviolent direct action at the age of 19 while working in the national headquarters for Greenpeace. I learned more about local anti-war organizing soon after by participating in a small coalition mobilizing against JROTC programs in Piscataway territories (the D.C. area). Frieda has been active in many other social justice movements in other countries, from anti-austerity organizing and climate campaign work in England, to most recently mobilizing members of Showing Up for Racial Justice (SURJ) Bay Area to canvass against militarized first responders trainings with the Stop Urban Shield Coalition.   She has also worked in solidarity with the Ohlone on their sovereignty struggles in recent years in their homelands of the East Bay Area.  Frieda's professional work as a researcher in racial equity in STEM education provides her with a perspective on how militarized police and the tech sector work in concert to erode the privacy and safety of communities of African descent while surveilling racial justice movements such as the Movement for Black Lives.
 
John M. Miller
John M. Miller is a co-founder and National Coordinator of the East Timor Action Network where he coordinates ETAN's New York chapter and directs ETAN's Foreign Bases Project. He is author of numerous articles and pamphlets, and editor and/or publisher for several newsletters and magazines. He served as staff for a Parliamentarians for East Timor observer mission to the 1999 referendum in East Timor and has made numerous visits to East Timor. John has appeared on CNN, CNBC, BBC, Canadian Broadcasting, Pacifica's Democracy Now! and a numerous local radio programs.
Nathan Sheard
Growing up in New York, Nathan "Nash" Sheard spent much of his formative years in both Long Island's "Gold Coast" and the Crown Heights Section of Brooklyn. As a member of Mutant Legal activist collective and founding member of Just Info (a 24-hour hotline providing no-cost legal information in New York City), Nash has worked effectively to help activist and communities mitigate the damage of harmful interaction with police and other state agents. Having viewed the results of aggressive and militarized policing in the US, and in developing nations with police agencies funded with US Dollars, Nathan has signed on with CODEPINK to passionately support advocacy for the demilitarization of the police and an end to the Department of Defense's 1033 program. Nash currently works with the Black Movement - Law Project, which supports liberation by helping build the legal infrastructure necessary to protect emerging local movements. BMLP's work includes legal observation and traditional know your rights trainings, as well as emergency infrastructure such as jail support mechanisms and a network of national human and civil rights lawyers that assist local communities in urgent legal needs and long-term impact litigation.
Debbie Southorn
Since 2010, Debbie has been involved in numerous Chicago-based efforts to challenge racist state violence, with organizations such as Black & Pink, We Charge Genocide, and the Chicago Childcare Collective. Debbie's roles in these efforts have included videography, grassroots fundraising, and volunteer coordination, among others. As a staff organizer with the American Friends Service Committee in Chicago, Debbie has collaborated with WRL staff on several projects, including forming a book club around Ali Issa's Against All Odds, and helping to build resistance to the Illinois Tactical Officer's Association annual conference. Debbie looks is especially excited to be part of the work WRL has committed to - the hard, messy work of re-orienting priorities as an anti-war organization and investing in the leadership of young people, people of color and queer people.
Steve Théberge
Steve Théberge is a potter from western Massachusetts. Following a degree in Anthropology and years as an activist in New York City, he spent 2008-2013 training in Zen Buddhist monasteries in the United States and Japan. He currently maintains a pottery studio in Northampton, Massachusetts. From 2004-2009 he worked in the national office of the WRL, serving as Youth and Counter Recruitment National Organizer (2004 - 2007) and as Organizing Coordinator (2007 - 2009). In his time on staff his work was focused on developing and coordinating a national counter-recruitment program, developing strong relationships with allied organizations and projects, and leading workshops and trainings around the country. He was on staff during a period of organizational transformation and was very involved in the restructuring process that followed. Steve sees WRL as his political home - "both in the sense that it is where I came of age as an organizer, and that it is the organization that that fully embodies my vision of the world that we want to live in." He looks forward to supporting on-the-ground organizing campaigns - specifically the work to end police militarization - and also supporting the health and sustainability of the organization as a whole.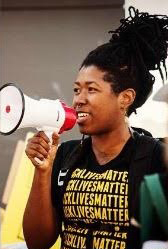 Kamau Walton
Over 6 years as a member of the Critical Resistance (CR) Oakland Chapter, Kamau sharpened their organizing skills as a part of successful campaigns to fight gang injunctions, end solitary confinement in California, and stop the construction of a new jail. In 2014 Kamau was the local organizer with the Stop Urban Shield Coalition which successfully pushed the seminars and vendor show out of Oakland. Through that work they learned even more about how militarization had permeated policing under the guise of "public safety". In 2014 they were also a founding member of the Black Lives Matter Bay Area Chapter. Kamau is now an at-large member of CR based in Atlanta, focusing on infrastructural support and cultivating relationships with organizations in the South doing abolitionist work. They have also joined Southerners on New Ground and the BLM Atlanta chapter (both of which are somewhat intertwined). I'd be excited to join the WRL National Committee not only to support WRL's long standing work to dismantle the roots of the American War Machine, but also to make that work more accessible to the communities I'm committed to serving.