WRL's work is directed by its highest decision-making body, the National Committee (NC). The NC meets twice a year and has a New York-based Administrative Coordinating Committee that meets more frequently.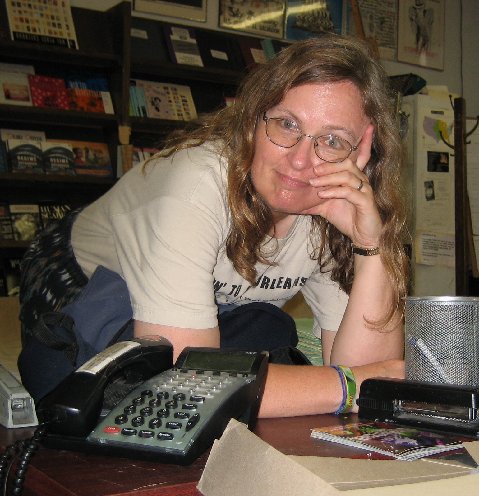 Ellen Barfield
Ellen Barfield has been a full-time peace and justice activist for nearly thirty years. In addition to being on the board of the War Resisters League, Ellen is the coordinator of the Veterans for Peace Baltimore Phil Berrigan Memorial Chapter, and works on national committees of VFP, Women's International League for Peace and Freedom (WILPF) and School of the Americas Watch. She served in the U.S. Army from 1977-1981.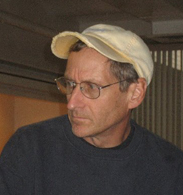 Rick Bickhart
Radicalized during the early 70s, discovered WRL in 1982 and have never left. Started out as a dairy farmer but for the last 35 years have made a living as a graphic designer and art director, prefer to be hiking in the mountains rather than in front of this damn computer where I am too often, father of two beautiful daughters, lucky partner to my very best friend, war tax resister and anarchist because I have to be, volunteer at local homeless shelters and food banks, jazz gives me comfort, can't wait to put in the garden, love a good mystery or a good political essay, don't bother with TV but can't wait to see the next good movie, and hope to someday to have a fraction of the courage of Ralph DiGia. WRL is my political home and home to many very fine friends.
Basma Eid
she/her/basma
Basma was born to Egyptian immigrants and raised in Rochester, NY alongside her five siblings. Coming of age in a post 9/11 world, her consciousness and worldview was intimately shaped by rising tides of islamophobia and the war on terror. She has organized alongside New York's diverse street vendor community and has supported the struggle for the decriminalization of informal workers. She has also worked in solidarity with the Palestine refugee community in Lebanon since 2012 and serves on the Board of Directors of The LEAP Program, a grassroots-based, volunteer-run organization that works in solidarity with Palestinian refugee youth living in forced exile in Lebanon. She was part of a solidarity delegation to Athens in 2017 and has supported WRL's resisting air wars work. She currently organizes at Freedom to Thrive where she has led intersectional divestment campaigns targeting mass incarceration and militarism. When she's not drinking copious amounts of coffee, she can be found training for the revolution alongside the futbolistas.
Sarms Jabra
Sarms is a refugee of the Gulf War, a talented organizer and strategist currently working as a project manager for the City of Detroit. As a Challenge Detroit Fellow, he serves as a consultant to social organizations in the city. Sarms is a member of a National Lawyers Guild, a member of the Iraqi Transnational Collective, which recently raised hundreds of dollars to support The Organization of Women's Freedom in Iraq.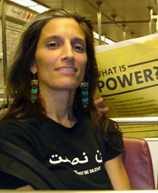 Susan Kingsland
Susan has worked for many years in a range of international peace movements, including the Central America solidarity movement and movements in solidarity with the Palestinian people.  She was part of the group which produced and advocated around the "We Will Not Be Silent" tshirts, written in English, Arabic and Hebrew. She has worked in a number of housing advocacy organizations and is currently Director of HR and Operations at Brooklyn's Fifth Avenue Committees. Susan is a member of WRL's Personnel Committee and is our representative to War Resisters International.
Frieda McAlear
Frieda comes to WRL excited because of its long history of working at the intersections between fascism, repression, war, and acknowledging everyday forms of social control - sexism, racism, classism, among many others. Long before the "War on Drugs," or the militarization of the U.S. police, her mother mom and other members of her tribe [Inupiaq] worked tirelessly for sovereignty from the U.S. Government and its extractive economy. Inspired by her mother's resistance, Frieda became involved in nonviolent direct action at the age of 19 while working in the national headquarters for Greenpeace. I learned more about local anti-war organizing soon after by participating in a small coalition mobilizing against JROTC programs in Piscataway territories (the D.C. area). Frieda has been active in many other social justice movements in other countries, from anti-austerity organizing and climate campaign work in England, to most recently mobilizing members of Showing Up for Racial Justice (SURJ) Bay Area to canvass against militarized first responders trainings with the Stop Urban Shield Coalition.   She has also worked in solidarity with the Ohlone on their sovereignty struggles in recent years in their homelands of the East Bay Area.  Frieda's professional work as a researcher in racial equity in STEM education provides her with a perspective on how militarized police and the tech sector work in concert to erode the privacy and safety of communities of African descent while surveilling racial justice movements such as the Movement for Black Lives.
John M. Miller
John M. Miller is a co-founder and Coordinator of the East Timor and Indonesia Action Network (ETAN) which works for democracy, justice and human rights in Timor-Leste, Indonesia and West Papua. John is currently WRL's representative to War Resisters International (WRI). He is author of numerous articles and pamphlets, and was editor and/or on publications committee for WIN Magazine, the Nonviolent Activist, and National Mobilization for Survival's The Mobilizer. He has participated in campaigns to close nuclear power plants in Virginia and the Philippines and against the militarization of the seas and military bases in New York harbor, the Pacific region and North Atlantic. He served as staff for a Parliamentarians for East Timor observer mission to the 1999 referendum in East Timor and has made numerous visits to East Timor. John has appeared on CNN, CNBC, BBC, Canadian Broadcasting, Pacifica's Democracy Now! and many local radio programs.
Chris Ney
The Rev. Christopher Ney serves as pastor of Central Congregational Church (UCC) in Newburyport MA. A native of Pennsylvania, he graduated from Earlham College with a degree in Peace and Global Studies. He earned the Master of Divinity from Union Theological Seminary. He is a PhD candidate at the Boston University School of Theology. His research on an ecumenical partnership between the United Church of Christ and the Pentecostal Church of Chile reflects his long-standing interest in Latin American solidarity and the relationship between ethnography and theology. Before his current church, he served a number of churches in New York City and worked for many years on issues of criminal justice, militarism, and community development. In the late 1990's he served on the staff of the War Resisters League.
Nathan Sheard
Originally from New York, Nathan "nash" Sheard moved to San Francisco in 2017, where he serves as the Associate Director of Community Organizing for the Electronic Frontier Foundation. A long-time admirer of War Resisters League's work, nash became engaged with WRL while leading a police demilitarization campaign for a national peace organization that partnered with WRL in successfully campaigning to evict Urban Shield training exercises from the Bay Area city of Oakland. Having viewed the results of aggressive and militarized policing—backed by US tax dollars— in the US, Palestine, and Honduras; and as a target of racial profiling, biased broken windows policing, and police brutality in his own life; nash has worked extensively to help activists and communities mitigate the damage of harmful interaction with law enforcement and is committed to fighting state-sanctioned violence in the US and abroad.