Speakers' Bureau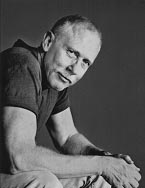 David Bacon is a writer and photojournalist based in San Francisco, and writes for The Nation, The Progressive, LA Weekly, and the San Francisco Chronicle and Bay Guardian, among others. He has been a documentary photographer for 15 years, shooting for many national publications (and formerly for the Impact Visuals Photographers' Cooperative Agency). He has exhibited his work nationally. Bacon covers issues of labor, immigration and international politics. He travels frequently to Mexico, the Philippines and Europe. For twenty years, Bacon was a labor organizer for unions in which immigrant workers made up a large percentage of the membership. Those include the United Farm Workers, the Molders Union and others. Those experiences gave him an insight into changing conditions in the workforce, the impact of the global economy and migration, and how these factors influence the struggle for the workers rights. Bacon was chair of the board of the Northern California Coalition for Immigrant Rights, and helped organize the Labor Immigrant Organizers Network and the Santa Clara Center for Occupational Safety and Health. He serves on the board of the Media Alliance and belongs to the Northern California Media Workers Guild. His book, The Children of NAFTA, was just published by the University of California Press. He just completed a photodocumentary project, "Beyond Borders-Transnational Working Communities," documenting communities and social movements created by migration from Mexico and Guatemala to the US, sponsored by the Rockefeller Foundation. He traveled to Baghdad in October, 2003, to investigate the conditions of Iraqi workers and the prohibition on unions enforced by the occupation authorities. His expose in The Progressive magazine was included in the Project Censored list of stories for 2004.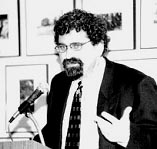 Robert Buzzanco received his Ph.D. in history from The Ohio State University and is currently a history professor at the University of Houston, where he specializes in studies of U.S. foreign policy, globalization, war and the military-industrial complex. He is the author and editor of many articles and books on various aspects of American foreign policy and imperialism, including Masters of War: Military Dissent and Politics in the Vietnam Era, which won the Stuart Bernath Prize for best book in 1996 awarded by the Society for Historians of American Foreign Relations, and Vietnam and the Transformation of American Life. He also received the Stuart Bernath Lecture Prize for outstanding young scholar in 1999. Buzzanco teaches courses on the Vietnam War, Globalization and Terrorism, U.S. Foreign Policy, and the 1960s, among others, at the University of Houston. He is currently researching and writing a study of the Cold War and also a study of the economic impact of the Vietnam War.
George Capaccio is an award-winning poet and activist who traveled to Iraq several times with Voices in the Wilderness. He has extensive speaking experience on Iraq. He has written numerous pieces about the war and sanctions upon Iraq, including a piece in Iraq Under Siege: The Deadly Impact of Sanctions and War, which is a compilation of essays from writers such Capaccio, Noam Chomsky, Howard Zinn, and Kathy Kelly.
Joe Carr is a 23-year-old peace and anti-racist activist from Kansas City, Missouri. He graduated with a BA from the Evergreen State College in Olympia, Washington in 2004, having organized with direct-action movements such as Earth First, Food Not Bombs, and Arts in Activism. He spent January to April of 2003 coordinating for the International Solidarity Movement in Rafah, Palestine, and witnessed Israeli soldiers murder US peace activist Rachel Corrie, and British peace activist Tom Hurndall. He now works with the Christian Peacemaker Teams in Al Khalil (Hebron), Palestine and in the US Palestinian Rights Movement.
Oskar Castro heads up the National Youth & Militarism Program of the American Friends Service Committee. He has been involved in human and civil rights discussions related to the U.S. colonization of Puerto Rico, college anti-war activism and support for U.S. political prisoners and prisoners of conscience. Oskar works to educate young people about the risks, horrors and misconceptions of military life including: Recruiter Lies, Conscientious Objection, Selective Service Registration, U.S. Militarism around the Globe & in the Public Schools.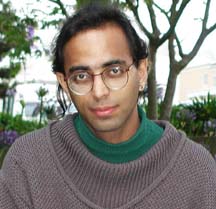 Pratap Chatterjee, Managing Editor and Program Director of Corp Watch. Pratap is an investigative journalist and producer. Pratap has many years of experience working in radio, print and digital media, including hosting a weekly radio show on Berkeley station KPFA, working as a correspondent for InterPress Service and producing a series of dynamic websites such as www.whirledbank.org. He is also a long-time organizer and activist. He helped launch Project Underground, and has served as a board and staff member with many other related groups. Pratap has worked collaboratively with CorpWatch for the last several years, authoring original investigative pieces for the site on Enron, Halliburton and Bechtel, among others. His newly published book is Iraq Inc.: A Profitable Occupation.
Jacquelynn Cunliffe is a social and political activist from Wayne, PA who is interested in the influence of corporate interests on American government with a particular focus on the Carlyle Group. She has been involved in a variety of efforts in the peace movement through the Peace and UN sub-committee of the Social justice Committee of the Main Line Unitarian Church in Wayne, PA and is active in the Philadelphia chapter of the War Resisters League. Her involvement in peace and social justice issues has included organizing voter registration efforts, street theater of Tax-Day to educate the public about misplaced spending priorities and co-organizing a fundraising concert in her home to benefit the victims of violence in Darfur, Sudan. Jacquelynn's professional work has been dedicated to women's health care, both as an advocate of women's reproductive rights and as a prenatal nurse practitioner. She has a masters' degree in nursing from the State University of New York, Stony Brook.
Sean Donahue directs the Corporations and Militarism Project of the Massachusetts Anti-Corporate Clearinghouse, and is currently organizing a public tribunal to investigate and expose Raytheon's role in aiding and abetting U.S. war crimes in Iraq. He writes about U.S. foreign policy for the Mexican news magazine, Milenio Semanal, covering a wide range of issues from the implications of the recent nonviolent uprising in Bolivia to the role of Bechtel and Halliburton in Iraq. He is a nonviolence trainer, and has organized and taken part in civil disobedience actions at weapons plants throughout New England. He is also involved in Colombia work.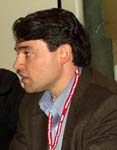 Brian J. Foley is a professor at Florida Coastal School of Law in Jacksonville. His scholarly work focuses on improving the law on nations' use of military force, to require decision-makers to find alternatives to violence and ways to prevent or limit the damage likely to result. He has published numerous opinion pieces on politics and war in CounterPunch and various newspapers; several have appeared on Yahoo! News Full Coverage and Antiwar.com. He teaches and/or has taught courses in Criminal Law, Criminal Procedure, Civil Procedure, Business Organizations, Legal Writing, Property and Evidence. He received his A.B. from Dartmouth College, and his J.D. from Boalt Hall School of Law, University of California, Berkeley, where he was an Associate Editor of the California Law Review. Following graduation, he served as a law clerk to a federal judge and practiced law in Philadelphia. Brian is the State Chancellor for Florida for the International Association of Educators for World Peace and a member of Lawyers Against the War (LAW).
Michael Foley is Assistant Professor of History at the City University of New York's College of Staten Island and author of Confronting the War Machine: Draft Resistance During the Vietnam War (2003). He has written and lectured widely on the history of conscription in America and resistance to it. He serves on the executive board of the Peace History Society and is a member of Historians Against War.
Greg Guma is an author, editor, scriptwriter, and activist. His journalistic writing on civil liberties, mass media, and globalization is syndicated internationally. He has chronicled the evolution of Vermont politics in The People's Republic: Vermont and the Sanders Revolution. Additionally, he organized the Building Independent Media conference (2000), a performance celebration of Dave Dellinger's nonviolent leadership (2001), and a conference on prison justice (2002). He produced the TF compact disc set, Nonviolent Warriors, an audio documentary based on the Dellinger celebration. In 2003, he wrote and co-produced Inquisitions (and Other Un-American Activities), a new play about US "red scares" that has aired on dozens of radio stations across the country. In 2003, he wrote Uneasy Empire: Repression, Globalization, and What We Can Do. For the last two decades, he has worked closely with Toward Freedom, editing its award-winning periodical and publishing numerous articles on global politics and movements for self-determination. His scriptwriting credits include documentaries such as Haitian Pilgrimage, Journey Home: Accompaniment in Guatemala, and No Longer Enemies: Healing Wounds in Vietnam. He co-developed the Bread & Puppet: Stories of Struggle & Faith from Central America, an illustrated record of the famous theater group's production on the politics of religion. Additionally, he has founded and managed progressive bookstores as well as worked on immigrant rights issues in New Mexico.
Jim Haber is the director of War Resisters League-West, based in San Francisco and represents WRL's Organizing Network on the National Committee. He is on the steering committee of United for Peace and Justice-Bay Area and is an active member of Jewish Voice for Peace. In 1986 Jim began volunteering at the Martin de Porres House of Hospitality, a popular soup kitchen in S.F. In 1994 Jim became a full-time volunteer and co-director there. He lives comfortably in community with other worker while resisting war taxes through income reduction. Becoming politically active in the 1980s, Jim has worked on numerous campaigns for social change. He is a long-time nonviolence trainer and leads conflict resolution and crisis de-escalation workshops. As a skilled facilitator and member of both WRL's anti-militarism and anti-racism taskforces, Mr. Haber has moderated discussions on active nonviolence, the history of pacifism, counter-military recruitment, and other issues of league concern.
G. Simon Harak, S. J. has a B.A from Fairfield University, an M.div. from the Jesuit School of Theology at Berkeley, and an M.A. from the University of Notre Dame. He also has a Ph.D. in Ethics, from Notre Dame. Simon has been active in the Peace Movement and helped found Voices in the Wilderness, which was nominated in 2001, 2002, and 2003 for the Nobel Peace Prize. He has traveled to Iraq three times with VOICES, where he openly and publicly violated US/UN sanctions, to bring medicine and toys to Iraqi hospitals. In September, 2003, Simon became Anti-Militarism Coordinator at the National Office of the WRL. In 2004 he organized and launched the Stop the Merchants of Death speaking tour, which examines the companies who profit - and profiteer - from invasions and occupation. He has delivered 2,500 presentations internationally about Iraq. Among other book-length manuscripts, he has published Nonviolence for the Third Millennium: Its Legacy and Its Future (Mercer University Press, 2000), and co-edited Beyond Boundaries: Student Volunteers in the Developing World (JASPA, 1998).
William Hartung is the President's Fellow at New School University. An expert on the arms trade and military spending, he is the Director of the Institute's Arms Trade Project. Hartung is the author or co-author of numerous books and studies, including How Much Are You Making on the War, Daddy? (2003, Nation Books), Martha Honey and Tom Barry, editors, Global Focus: U.S. Foreign Policy at the Turn of the Millennium (chapter author, St. Martin's Press, 2000); Leon V. Sigal, editor, The Changing Dynamics of U.S. Defense Spending (co-author, Praeger, 1999); and And Weapons for All (HarperCollins, 1995). His articles on the arms trade and the economics of defense spending have appeared in The New York Times, Newsday, The Nation, the Christian Science Monitor, the Bulletin of the Atomic Scientists, World Policy Journal and numerous other publications.
John Humphries is a member of the Hartford Friends Meeting and a volunteer with the American Friends Service Committee (AFSC). He lives in Hartford with his wife and two young children. Two years ago, he left his full-time job as a community organizer to become more involved in Quaker-based peace and justice work. In June 2002, he traveled to Iraq as a member of a Quaker/AFSC delegation to gain first-hand knowledge of the situation, and spent much of last year speaking to groups about that experience. He has also helped to organize the faith-based movement promoting nonviolent alternatives to war, serving on the steering committee of Reclaiming the Prophetic Voice, a statewide interfaith network of religious leaders and people of faith. Prior to his work as a community organizer, John spent a decade focused on international development work as an irrigation engineer.
Robert Jensen joined the University of Texas at Austin faculty in 1992 after completing his Ph.D. on media law and ethics in the School of Journalism and Mass Communication at the University of Minnesota. He teaches graduate and undergraduate courses in media law, ethics, and politics. Prior to his academic career, he worked as a professional journalist for a decade. In his research, Jensen draws on a variety of critical theories. Much of his work has focused on pornography and the radical feminist critique of sexuality. In more recent work, he has addressed questions of race through a critique of white privilege and institutionalized racism. Jensen is the author of Citizens of the Empire: The Struggle to Claim Our Humanity (City Lights, 2004); Writing Dissent: Taking Radical Ideas from the Margins to the Mainstream (Peter Lang, 2002); co-author with Gail Dines and Ann Russo of Pornography: The Production and Consumption of Inequality (Routledge, 1998); and co-editor with David S. Allen of Freeing the First Amendment: Critical Perspectives on Freedom of Expression (New York University Press, 1995). In addition to teaching and research, Jensen writes for popular media, both alternative and mainstream. His opinion and analytic pieces on such subjects as foreign policy, politics, and race have appeared in papers around the country. He also is involved in a number of activist groups working against U.S. military and economic domination of the rest of the world.
Antonia Juhasz is Project Director of the International Forum on Globalization (IFG), an alliance of eighty leading international activists, scholars, economists, researchers and writers, representing over 60 organizations in 25 countries, formed in 1994 to stimulate new thinking, joint activity, and public education to counter and provide real-life alternatives to corporate-led globalization. An expert on all aspects of international trade and investment policy from the World Trade Organization (WTO) to the Free Trade Area of the Americas (FTAA), Juhasz is co-author of the upcoming second edition of Alternatives to Economic Globalization: a Better World is Possible. She is also the author of the IFG publication; "Does Globalization Help the Poor?" Juhasz also received a Project Censored award this year for her article, "Ambitions of Empire: the Radical Reconstruction of Iraq's Economy," in LeftTurn magazine. This article explores the use of the military invasion of Iraq to advance a corporate globalization agenda in the entire region. She provided testimony to the New York Session of the World Tribunal on Iraq in May 2004 on the economic colonization of Iraq by the U.S. and has published several opinion pieces and articles on this topic with particular attention paid to the Bechtel Corporation of San Francisco.
Margaret Kimberley is a freelance writer. Her web log, Freedom Rider, is devoted to commentary on politics, race and the role of religion in the public sphere. She is also a columnist for BlackCommentator.com. Her commentary has appeared in publications such as the Dallas Morning News and Alternet.org.
Chrissy Kirchhoefer, while still a student of Social Work, discovered her life work when she moved into the Catholic Worker community in Columbia, Missouri. Through her relationships with people living on the streets, she began an informal education on the dynamics of systematic violence and its ravaging affects on individuals' lives, which compelled her to grassroots organizing. Over the past six years, Chrissy has worked with various national campaigns to close the School of the Americas, lift the sanctions/stop the war in Iraq, prevent weapons in space and to halt the death penalty, and has been placed in jail quite a few times for her efforts. In May 2002, she traveled to Iraq on a joint delegation with Voices in the Wilderness US/UK and the Veterans for Peace Iraqi Water Project. After her travels in Iraq, she returned to her hometown of St. Louis, which houses the "smart bomb" at Boeing's international weapons production headquarters. While working as the Coordinator of the Peace Economy Project, Kirchhoefer organized hundreds of people for numerous direct actions at Boeing, preventing the production or delivery of over 200 "smart bombs." From December to January, Kirchhoefer traveled to the Occupied Palestinian Territories to work with the International Solidarity Movement and various organizations working to end the illegal occupation and erection the Wall.
Naomi Klein is an award-winning journalist and author of the international best seller No Logo: Taking Aim at the Brand Bullies. Translated into 27 languages and with over a million copies in print, The New York Times called No Logo "a movement bible." In 2000, The Guardian Newspaper short-listed it for its First Book Award, and in 2001, No Logo won the Canadian National Business Book Award, and the French Prix Mediation. Naomi Klein writes an internationally syndicated column for the The Nation, The Guardian and The Globe and Mail. A collection of her work, entitled "Fences and Windows: Dispatches from the Front Lines of the Globalization Debate" was published in October 2002. In 2004, she released The Take, a film about Argentina's occupied factories, co-produced with director Avi Lewis. She is a former Miliband Fellow at the London School of Economics and is presently the Freda Kirchway Fellow of the Nation Institute. Ms. Klein lives in Toronto.
Stephen Vincent Kobasa is an activist and teacher who has been a part of the resistance to the U.S. academic/military/corporate complex for more than twenty years. He is the moderator of the Trident Resistance Network and a co-founder of Colombia Action/CT. He has particular knowledge of the defense economy of Connecticut, with its dependence upon manufacturers like Electric Boat and Sikorsky Aircraft. He has also done research on the complicity of academic institutions like Yale University in the research and development that is the foundation of militarism.
Steve Kretzmann is described by Rolling Stone as "a whip crack petroleum economics analyst." Kretzmann has worked on energy issues and the global oil industry for the last fifteen years. He has served as the environmental advisor to Ken Saro-Wiwa and the Movement for the Survival of the Ogoni People in Nigeria and was a co-founder of the human rights and environmental organization Project Underground. He has campaigned to keep Florida's coast free from oil and gas drilling, and represented various organizations at UN environmental negotiations. Recently, Steve's work at the Institute for Policy Studies integrated and organized diverse constituencies (human rights, environmental, labor, anti-corporate globalization, national security, development) to target and shift public funding for energy. In July of 2003, Steve and his colleagues were the first to uncover and report on Executive Order 13303. Over the past three years, Steve helped coordinate a global civil society effort to engage in the World Bank's Extractive Industries Review, which recommended an end to Bank support for coal and oil projects. Steve recently founded the Tarbell Energy Institute in order to further study, organize, and overcome the political barriers to a clean energy transition. He has authored numerous articles and reports and is a regular commentator on issues of corporate accountability, transparency, the global oil industry, environmental and human rights.
David Kubiak worked in Japan as a journalist, author and activist throughout the Nineties, collaborating with the nation's leading anti- military-industrial groups. After repatriating to the US in 2000, he founded Big Medicine, a research & education institute devoted to studying the "corporate takeover of our country, culture and consciousness" and devising "broad spectrum remedies." He also co-produces the "Ain't that Good News!" movement strategy hour on WBAI FM in New York, and organizes conferences, workshops, and teach-ins on the corporate coup d'état His personal research focuses on big corporate bodies as true "living systems" which are antibiotic, politically dominant, and competing with humankind for the evolutionary future. Recently he has written and organized widely around the unanswered questions of 9/11 and its exploitation by this regime to lead us into Constitutional twilight and endless war.
John LaForge is a plowshares activist on the staff of Nukewatch, a peace and environmental action group based in Wisconsin, and edits its quarterly newsletter, The Pathfinder. He is a co-recipient of the WRL's 1984 peace award. His articles on nuclear power and weapons have appeared in The Progressive, Z Magazine, Earth Island Journal, The Nonviolent Activist, the Miami Herald and the Minneapolis Star-Tribune. You can visit their website at www.nukewatch.com.
Erik Leaver is a project associate with the peace and security program and serves as the congressional relations director for the Foreign Policy In Focus project. His current work includes conducting education and outreach on issues surrounding Iraq and counterterrorism issues. In the last year he has been interviewed on numerous radio stations and quoted in publications ranging from The Nation and The Washington Post to Al-Ahram (Egypt). Erik holds an MA in Latin American Studies from the University of New Mexico. He worked with the Interhemispheric Resource Center in New Mexico on the Foreign Policy In Focus project before moving to Washington to continue his work at IPS in April 1999.
Jerome McRaith has a BS in economics from the University of Minnesota, and a MBA from Mankato State University. He served in the US Air Force for 4 years as a control tower operator, and then entered the corporate world. After spending 30 years in management for several large corporations working on acquisitions and downsizing, Jerry refers to himself as a "recovering corporate monster." He has since become very involved in the peace movement, organizing and participating in numerous demonstrations for peace at the local and national level, and starting a local chapter of Veterans for Peace. His long history with and extensive knowledge of the business world gives him special insight into what can be done to stop these "merchants of death."
Scott Parkin is a community organizer and activist from Houston, TX. He has been part of environmental and social justice movements since 1990. He is a co-founder of Houston Global Awareness, a grassroots global justice and anti-war group that campaigns against corporate war profiteer Halliburton. He was a key organizer in the protests at 2004 and 2005 Halliburton shareholder's meetings. This year, while traveling in Australia giving talks about the Halliburton campaign, people power strategies to stop the war and occupation of Iraq and non-violent direct action, Australian authorities detained him for 5 days assessing him to be "direct or indirect national security risk" and then forcibly removed Scott at his own cost. He has recently been published on Counterpunch, Commondreams and Znet.
Jocelyn Selene Perry is an ordained deacon at Middle Collegiate Church and is passionate about peace and justice issues. Jocelyn, a native New Yorker with a background in investment banking, witnessed the September 11th tragedy. After this life changing event, she has dedicated herself to studying and practicing nonviolent conflict transformation and advocating active peacemaking supporting justice for the oppressed. In January of 2003, Jocelyn served as a delegate to Iraq with Christian Peacemaker Teams. After spending several weeks in Iraq, Jocelyn's eyes opened to the injustices of war and the occupation of Iraq as well as the tragic missed opportunity in creating peace. She will return to Iraq early 2005. As an African-American woman, she feels the importance of advocating for justice and understanding of our interconnectedness across cultures, ethnicities and faith-traditions.
Dave Robinson is the national coordinator of Pax Christi USA, the national Catholic peace and justice movement. An internationally recognized expert in the field of disarmament and nuclear deterrence, Robinson has represented Pax Christi International on disarmament issues at the United Nations, and regularly serves as a consultant to NGOs and faith-based organizations working on issues of disarmament, human rights, international peace and conflict resolution. Robinson has participated on delegations to Iraq, El Salvador, Colombia, Afghanistan and Pakistan, and lectures on a wide range of theological and justice issues, including economic and interracial justice, Just War Theory, the role of faith and politics, the War on Terrorism and foreign policy. Robinson has also participated in a number of direct actions, including campaigns against U.S. nuclear weapons policy, the U.S.-led war in Iraq, and most recently in front of the Sudanese Embassy to call attention to the ongoing humanitarian crisis unfolding in the Darfur region. Robinson is the Executive Editor of The Catholic Peace Voice, a bimonthly newsmagazine published by Pax Christi USA, and has been published by numerous secular and religious publications.
Joanne Sheehan has been a nonviolence trainer and organizer with peace and justice groups for 33 years. She is the Coordinator of the War Resisters League's New England Regional Office and is the Chair of War Resisters' International, which is based in London. Joanne has worked on many national and regional projects including the Continental Walk for Disarmament and Social Justice, the Clamshell Alliance's opposition to the Seabrook nuclear power plant, the Trident/Conversion Campaign, the Stop War Toys Campaign, the Community Coalition for Economic Conversion and YouthPeace. She was President of the Institute for Community Economics for many years. Joanne is an author of numerous articles on nonviolence, nonviolent campaigns and the history of nonviolence training in the U.S. Joanne has spoken and facilitated workshops at high schools, colleges and with peace and justice organizations in the United States, England, Ireland, Norway, Brazil, Turkey, and India.
Bob Smith is Staff Coordinator of the Brandywine Peace Community. As a peace activist since the seventies, Smith has organized demonstration against the war profiteering company of Lockheed Martin in Valley Forge, PA for the past 25 years, amongst numerous other peace demonstrations and non-violent actions. He is the local coordinator for a nationally circulating pledge of resistance and actively has been involved in organizing demonstrations against the war in Iraq and U.S. militarism.
Norman Solomon is a syndicated columnist on media and politics. His weekly column "Media Beat," distributed by Creators Syndicate, has been in national syndication since 1992. He is the founder and executive director of the Institute for Public Accuracy, a national consortium of policy researchers and analysts. A collection of Solomon's columns won the George Orwell Award for Distinguished Contribution to Honesty and Clarity in Public Language. The award, presented by the National Council of Teachers of English, honored Solomon's book, The Habits of Highly Deceptive Media. Solomon's eleven books include Target Iraq, Wizards of Media Oz: Behind the Curtain of Mainstream News, The Trouble With Dilbert: How Corporate Culture Gets the Last Laugh, False Hope: The Politics of Illusion on the Clinton Era, The Power of Babble: The Politician's Dictionary of Buzzwords and Doubletalk for Every Occasion, and Killing Our Own: The Disaster of America's Experience with Atomic Radiation and most recently, War Made Easty: How Presidents and Pundits Keep Spinning Us to Death. Solomon has appeared as a guest on many media outlets including the PBS "News Hour with Jim Lehrer," CNN, MSNBC, Fox News Channel, C-SPAN, public radio's "Marketplace," and NPR's "All Things Considered," "Morning Edition" and "Nation."
Eric Stoner is a writer and peace activist from Peoria, Illinois. While working for Pinkerton Global Intelligence Services during college he took a course on nonviolence that forever changed his path. Eric received his BA from the University of Illinois at Urbana-Champaign in Political Science and is currently finishing a MA from the UNESCO Peace and Development Studies program at the Universitat Jaume I in Spain. He has since worked as a research assistant at the Center for International Policy in Washington, DC for their Colombia Project, where he wrote several articles on U.S. policy towards Latin America. More recently he assisted in organizing and developing materials for the Stop the Merchants of Death speaking tour as the Freeman Intern at the National Office of the WRL. Eric stays involved with the WRL as a member of its Anti-Militarism Task Force and currently serves as the Vice President of the Peoria Area Peace Network.
Jim Vallette is the research director of the Sustainable Energy and Economy Network, a project of the Institute for Policy Studies. SEEN tracks U.S. taxpayer money, and how government institutions pass it along to U.S. corporations' worldwide extraction of oil, gas, and coal. He is co-author of several widely-publicized reports that have exposed the environmental and social implications of corporate fossil fuel welfare, including: the 2003 study, Crude Vision: How Oil Interests Obscured U.S. Government Focus On Chemical Weapons Use by Saddam Hussein; the 2002 expose', Enron's Pawns: How Public Institutions Bankrolled Enron's Globalization Game; and the October 2000 investigation, Halliburton's Destructive Engagement: How Dick Cheney and USA-Engage Subvert Democracy at Home and Abroad. Prior to joining SEEN, Vallette investigated a wide range of hazardous trade, including tropical timber, ozone-depleting substances, and toxic waste. From 1988 to 1994, he co-directed Greenpeace's Waste Trade Campaign, which resulted in a global ban on the export of hazardous wastes from the U.S. and Europe to the rest of the world. He lives and works in Southwest Harbor.
Tom Warren is an ordained pastor in the United Church of Christ and on the Board of Directors for our Southeast Conference. His education includes an MA in Sociology from the University of South Florida and a Masters of Divinity from Eden Theological Seminary in St. Louis and has and long been a columnist for collegiate and local newspapers. He has worked in the past on the GE Boycott (INFACT), SOA Watch efforts, and was the primary organizer of a monthly vigil at the Stennis Space Center in Mississippi where they are working on the space-based laser weapon. This work was in conjunction with Bruce Gagnon of the Global Network Against Weapons in Space.
Elizabeth Weill-Greenberg, a graduate student at Medill, is currently working on a book about Iraq veterans and military families who oppose the war. Ms. Weill-Greenberg has much experience in the anti-death penalty campaign and is an expert in military recruiting issues in schools.
Mike Whitty, Professor of Business Ethics at the University of Detroit Mercy has prepared several topics in lecture or workshop format to deliver worldwide. Whitty's topics include 1) Inner Peace and Outer Peace, 2) becoming a peacemaker - skills in conflict resolution, 3) peace studies - international peace education, 4) economics, global justice and human evolution, 5) utilizing youth culture, music and dance as campus outreach, 6) global interfaith innovations to reduce religious support for war.