On Friday, October 25th, more than 100 police and military agencies from California and across the US were joined by their counterparts from Israel, Guam, Bahrain, and Brazil for a massive SWAT team training and weapons expo called Urban Shield. The Facing Urban Shield Action Network, with more than 30 endorsers in the Bay Area, showed up to challenge this convergence and the militarization of police.
A press conference on Friday included family members of people who have been killed by police, including Dionne Smith-Downs, the mother of James Rivera Jr., who was 16-years-old when he was killed by police in Stockton, CA in 2010 with an assault rifle. Smith-Downs said, "They used an AR-15 assault rifle to kill my son. That's a military weapon right there. And that has got to stop." Rivera's father, Carey Downs, added, "They shot at my son 38 times, 18 into his body. They are using military weapons on our kids in our community—we need to take a lot more action. We are not just fighting for our son but for all of our kids."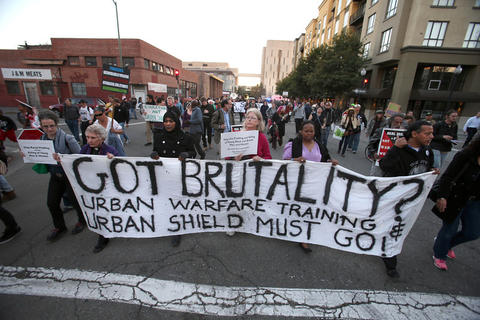 While in Oakland, WRL's Facing Tear Gas campaign organizers confronted our campaign target, Safariland, whose subsidiary - Defense Technology - has shipped tear gas and other "crowd control" weapons to the governments of Israel, Turkey, Canada, Bahrain, and Mexico, as well as to police forces around the US. Safariland tear gas was used to violently disperse activists at the Occupy Oakland encampment two years ago.
Our rally in front of the Marriott Hotel, host to Urban Shield in downtown Oakland, was followed by a march to Oscar Grant Plaza where Facing Urban Shield supporters joined with Occupy Oakland to mark the second anniversary of the Oakland Police Department crackdown and raid of their encampment.
Media Round-Up:
The Real News' The Companies Profiting from Police Militarization (Interview with WRL's Kimber Heinz) by Jessica Desvarieux
Daily Kos' Rise Up, Shut it Down, Oakland is The People's Town by Ray Pensador
Opposing Views' Arms Dealers Sell Military Weapons to Local Police at 'Urban Shield' Event by Michael Allen
Al Jazeera' At SWAT team expo, protesters decry police militarization by Anna Lekas Miller
Salon's Urban Shield: The gun nuts weaponizing your city by Anna Feigenbaum
RT's Police militarization expo Urban Shield descends on Oakland (VIDEO)
East Bay Expresses' Drones and Automatic Weapons on Display in Downtown Oakland for Urban Shield by Darwin Bond Graham and Ali Winston
Dispatches from the Underclass