Sixty years ago, the United States had 16,000 military personnel in Vietnam propping up the increasingly brutal South Vietnamese regime headed by Ngô Đình Diệm. Within six years the number of U.S. troops would escalate to over a half million, resulting in almost 60,000 U.S. combat deaths and more than a million Vietnamese, Cambodian, and Laotian deaths.
To protest the war as well as anti-Buddhist terrorism, on September 21, 1963 the War Resisters League organized the first U.S.-based action against the war in Vietnam. One hundred and fifty protesters marched from Dag Hammarskjold Plaza to the U.S. Mission to the UN for a 2-hour rally. Many of the signs featured the widely-publicized photo of Buddhist monk Thích Quảng Đức immolating himself on a Saigon street three months earlier to protest religious persecution.
This was the first action for the WRL-initiated Committee of Public Conscience, which included the Catholic Worker, Liberation, Committee for Nonviolent Action, General Strike for Peace, Student Peace Union, Young Peoples Socialist League, India Youth League, Iranian Students of New York, among other organizations.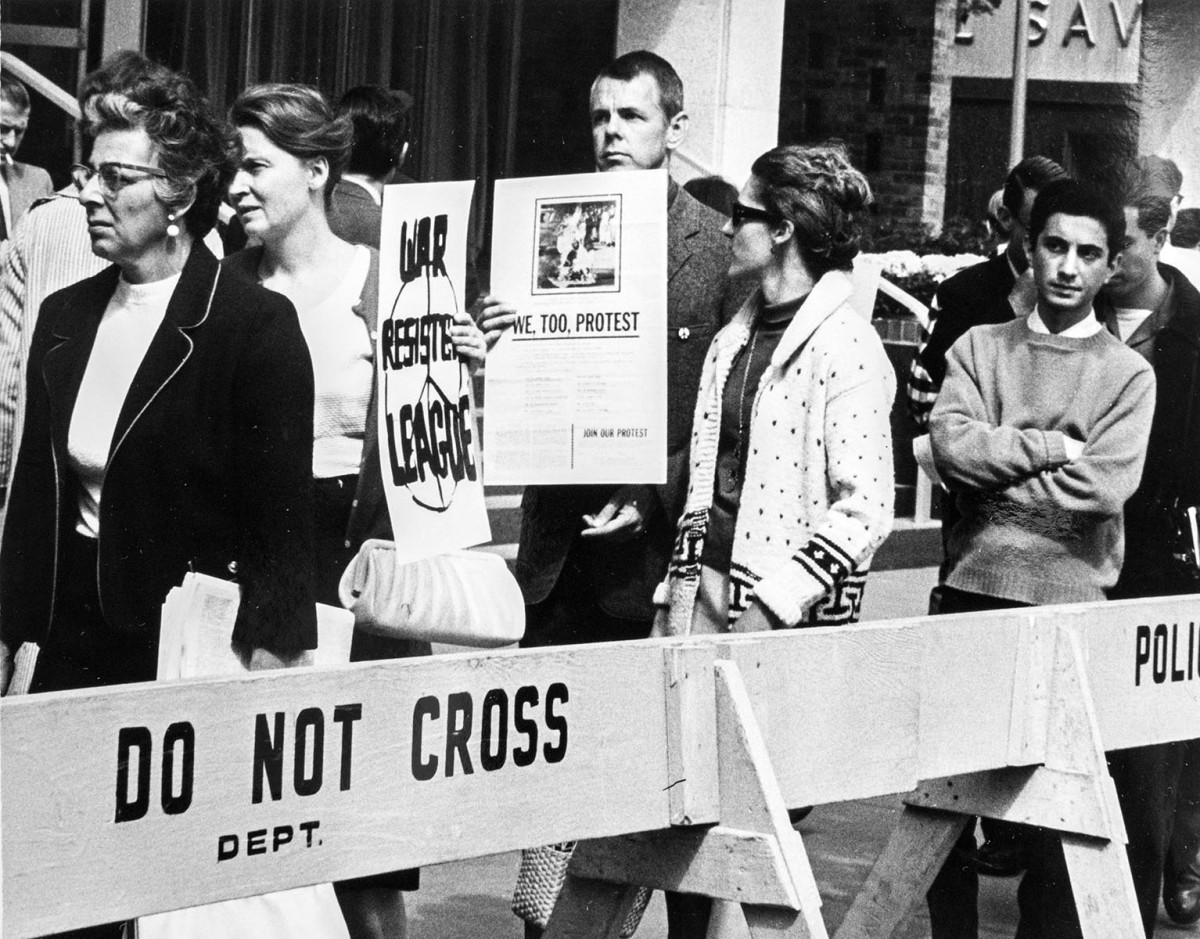 A couple weeks later, WRL quickly pulled together another demonstration when it was learned that the inflammatory Madame Ngo Dinh Nhu, an outspoken cheerleader for and sister-in-law of President Diệm, would be making a pro-war speech at the Waldorf Astoria. Despite the short notice, the action attracted 300 pickets.
Following these two actions were 12 years of escalating and increasingly militant vigils, marches, rallies, draft card burnings, induction refusals, desertions, boycotts, blockades of government facilities across the U.S. that finally ended after the withdrawal of all U.S. troops and the 1975 collapse of the South Vietnamese regime.
- Ed Hedemann
Photos: (top) Rev. Donald Harrington speaking to demonstrators at the U.S. Mission as WRL staff members Jim Peck and David McReynolds (center rear) looked on. Photo courtesy of David McReynolds; (bottom) NYPD surveillance photo of demonstrators at the U.S. Mission.
---
Read more: 
 WRL News, Nov-Dec 1963 (#122) "Picket Madame Nhu" (pp 1-2)
  New York Times Sept. 22, 1963 article about the demonstration.
Liberation, Vol 8 Iss 8, October 1963 (p 10) writeup