#noSWATzone Stands with #NoDAPL Water Protectors
WRL's #noSWATzone campaign celebrates the Water Protectors of the #NoDAPL movement in their continued struggle against settler colonial violence. We condemn in the strongest terms the ongoing and escalating militarized repression from private security forces and police, converging on Standing Rock from Wisconsin, Indiana, South Dakota, Minnesota, Wyoming and Nebraska under the Emergency Management Assistance Compact agreement.
We stand with indigenous communities in opposition to the Dakota Access pipeline and affirm indigenous leadership as the first and last line of defense against ensuing climate chaos of which this pipeline plan is most certainly a part. This convergence of militarism, racism and capitalism, could not provide a clearer example of what our world needs - grassroots, sustainable alternatives to extraction and solidarity with ongoing indigenous resistance movements- and what it doesn't - business as usual enforced by tear gas, water cannons, tanks and a culture of violence, white supremacy and genocide.
We see the Dakota Access pipeline as an ongoing project of settler colonialism, started by the white men who arrived at Turtle Island in the 1400s and called it their own. Projects like DAPL, which assume the logic of extraction-based economies, continue the settler colonial process of erasing indigenous identity and sovereignty, and asserting whiteness instead. That erasure occurs at every level of the DAPL pipeline, from repurposing native lands for extractive practices, attacking indigenous peoples with militarized state and private security forces, to the media black-outs of the #noDAPL movement.
In the words of Winona Laduke, we must "honor the earth", protect her from pipeline projects that are doomed to harm the water upon which we survive, and follow Native groups fighting for self-determination, like the Indigenous Environmental Network that urge us to "Defend, Protect and Renew."
 
THINGS YOU CAN DO NOW:
1. TAKE ACTION ON DECEMBER 1ST
If DAPL is not complete by January 1st, the project's funding becomes jeopardized. Stand with Standing Rock!
2. SIGN THESE PETITIONS
Credo Action
MoveOn
3. CALL OBAMA
4. DONATE $ TO:
Standing Rock Sioux Tribe
Indigenous Rising
5. DONATE THINGS TO SACRED STONE CAMP
6. ORGANIZE A GROUP TO GO TO STANDING ROCK*
Check this page and email organizing [at] NoDAPLSolidarity.org before you plan your trip. The latest asks are for those who can risk arrest & follow local Indigenous leadership.
7. ORGANIZE A SOLIDARITY ACTION
Act where you are against local actors (eg: banks): Sign up here & Read this article for the names & phone numbers of CEOs & other bank executives involved in decisions regarding the full Bakken pipeline from Canada to the Gulf of Mexico. Train for your direct actions, using WRL's Handbook & resources to help organize effective actions.
8. SHOW YOUR SUPPORT

10 ways you can help
 
*Going to Standing Rock & not indigenous? Read this Resource Guide and articles:
Standing Rock Allies Resource Packet
How to Talk About #NoDAPL: A Native Perspective
5 Things Every Non-Native Needs To Consider Before Visiting Standing Rock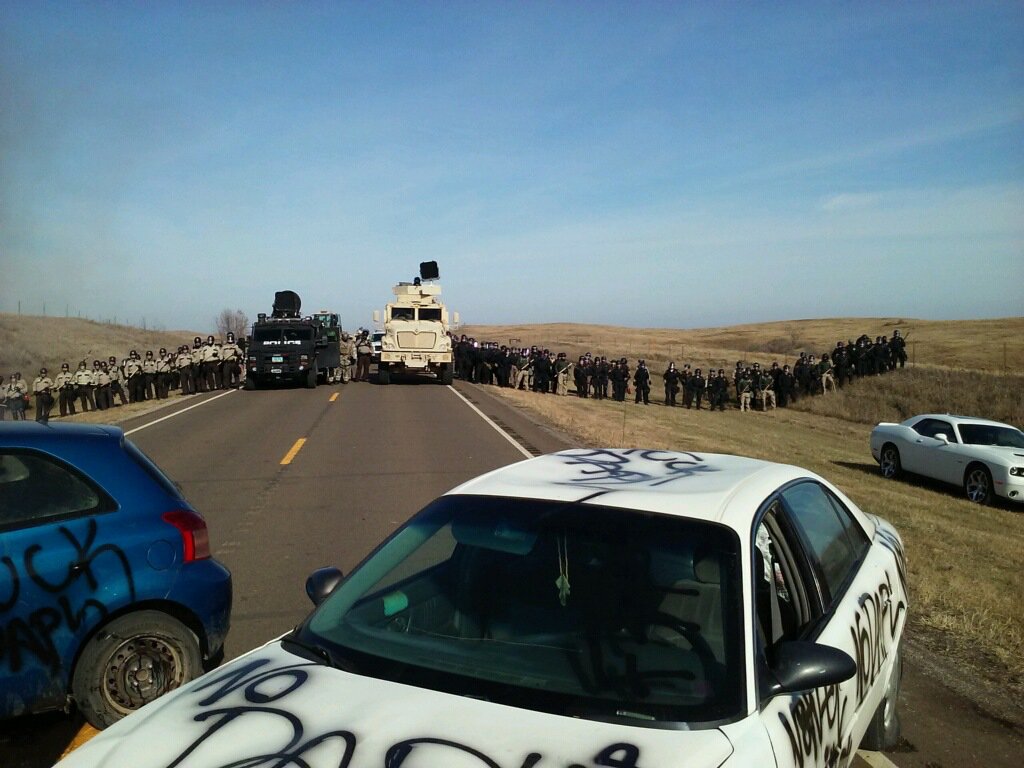 #StandWithStandingRock #NoDAPL #WaterIsLife