This past weekend, thousands across the country mobilized in airports, in defiance of the executive order "Protecting The Nation From Foreign Terrorist Entry into the United States", popularly known as the #MuslimBan. From taxi drivers and Yemeni business owners striking to lawyers, translators and protesters flooding arrivals halls, it was exhilarating. At the same time, we must also pay attention to those impacted by the many other executive orders that did not garner mainstream outrage, such as "Border Security and Immigration Enforcement Improvements" and "Enhancing Public Safety in the Interior of the United States."
WRL stands with all migrants in the U.S., especially the many facing renewed threats of mass deportation under the new Trump administration. Criminalization of many communities and nationalities is on the rise, but most prominently the release of executive orders in the new administration's first week targets Latinx and refugee communities in expanded ways, and defense must be a priority for our collective and intersectional movements.
 
That is why our campaign #NoSWATzone wholeheartedly stands with the vision of "Sanctuary Cities" and sanctuary spaces which provide refuge from the federal raids that Trump promises to bring. Despite the rhetoric that DHS keeps communities 'safe', we know that federal funding for police and law enforcement, in the form of programs like the Urban Areas Security Initiative (UASI), in fact often harms those very same vulnerable communities. Police militarization funding that promotes policing practices such as Broken Windows does not keep any community safe, especially already criminalized peoples. Banning those fleeing conflict, state repression, or in search of a better life from Iraq, Syria, Iran, Libya, Sudan, Somalia and Yemen does not keep Americans safe, it is simply a continuation of the War on Terror; continues to further polarize the world and penalize those already vulnerable.
As Josmar Trujillo writes: "Although most people don't know exactly what police departments buy with federal dollars (like drones), it's safe to say most of it is not as much to help everyday people as it is to help militarize local police. UASI also helps pay for controversial things like the Urban Shield expo, a conference where companies hawk military-grade weaponry to cops, and might partially help fund the NYPD's Strategic Response Group, an anti-terror slash anti-protester unit created by former Commissioner Bill Bratton in 2015."
So while we see ourselves as part of the sanctuary cities movement, we also maintain our fierce condemnation of programs like UASI, and call for their dismantling as a means of supporting sanctuary goals. Not to speak of the the further militarization of the immigration system through expanding ICE, border patrol and more. We need new visions of safety that do not rely on counter-terrorism monies from DHS or extreme policies of mass deportation, border securitization, increased vetting, travel bans and border walls.
We lift up groups leading the way like DRUM building local No Hate Zones across NYC neighbourhoods, Mijente driving national sanctuary expansion, and Not1More primed to take direct and strategic action against deportations across the country. We call on diasporas to unite in our efforts to support our communities and resist executive orders because we know we are stronger together. We applaud all cities and towns who have joined the Sanctuary Cities movement (whether legally or symbolically). We call on New York Mayor DeBlasio not to further cave to Republicans and expand the definition of 'criminal', by upping the already massive list of 170 offenses that trigger local police cooperation with the feds! We call on more cities to become Sanctuary Cities, and call on more people to create and maintain sanctuary spaces, so that we may reclaim safety, and defend our cities' and world's most vulnerable.
 
As artist Micah Bazant insists we remember: "We All Belong Here. We Will Defend Each Other."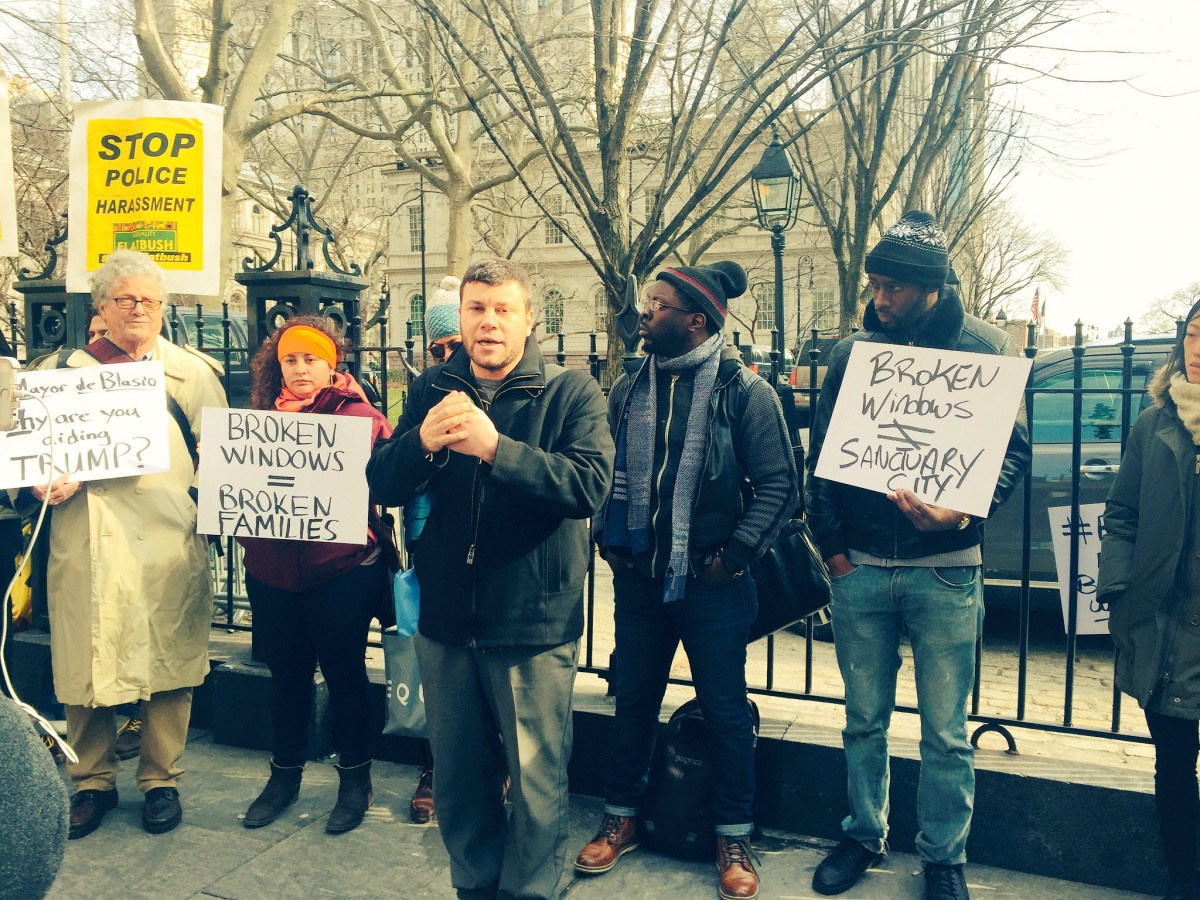 Image: Ali Issa speaking at "End Broken Windows" rally 2.2.2017: "Migrants will never be safe as long as there is $180 million coming to NY for police militarisation through UASI"
RESOURCES
Make The Road New York's Factsheet on Executive Orders "Border Security and Immigration Enforcement Improvements" and "Enhancing Public Safety in the Interior of the United States."
Make the Road New York's Factsheet on Executive Orders "Protecting The Nation From Foreign Terrorist Entry into the United States"
From Raha Iranian Feminist Collective, a factsheet on the travel ban: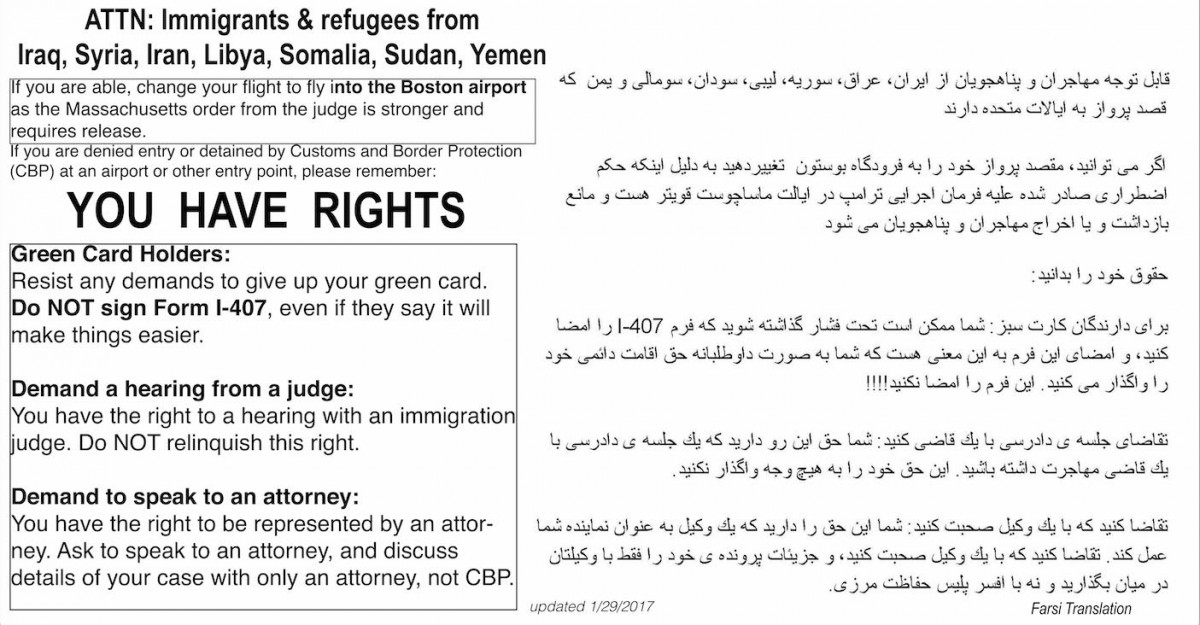 ACTION STEPS
Stand with Mijente
1. Tell your mayor to defy Trump + make your city a sanctuary
2. Be a Neighbourhood Protector
Resist Muslim Ban
Use NIAC's user-friendly guide to call + email your representatives to reject the Muslim Ban
Support Refugees in Greece
Donate to refugee communities in Greece via the Iraqi Transnational Collective delegation
RECOMMENDED READINGS
ON WHAT TRUMP'S EXECUTIVE ORDERS "Border Security and Immigration Enforcement Improvements" + "Enhancing Public Safety in the Interior of the United States" ACTUALLY DID
http://www.vox.com/2017/1/25/14378474/trump-immigration-order-wall-depor...
RADICAL EXPANSION OF SANCTUARY
http://www.truth-out.org/opinion/item/39224-a-radical-expansion-of-sanct...
ON DRUM'S NO HATE ZONES
https://www.thenation.com/article/as-trump-plans-immigration-crackdown-s...
ON CHICAGOANS EXPANDING SANCTUARY
http://mijente.net/2017/01/26/chicagoans-push-mayor-council-expand-sanct...
ON BECOMING A NEIGHBORHOOD RIGHTS PROTECTOR
http://members.mijente.net/poster_distro
ON NYC, SANCTUARY CITIES & NYPD
http://www.huffingtonpost.com/josmar-trujillo/dont-tie-the-safety-of-im_...
TRUMP'S EXECUTIVE ORDER ON "PUBLIC SAFETY" AKA MIGRANT POLICING
http://www.foxnews.com/politics/2017/01/25/text-trump-executive-order-on...
HISTORY OF THE FUGITIVE SLAVE LAWS + "SANCTUARY STATES"
https://www.washingtonpost.com/news/monkey-cage/wp/2015/08/13/the-house-...
WHICH CITIES ARE DEFENDING THEIR SANCTUARY STATUS?
http://www.centerforsocialinclusion.org/keeping-track-which-cities-are-d...