War Resisters League believes change happens through the implementation of revolutionary nonviolence. Nonviolent Direct Action is powerful. There are many dramatic images of nonviolent action; indeed, the ability to dramatise an issue is one of the strengths of nonviolence. However, this drama doesn't just happen. It gestates – in groups or cells of activists, in discussions, in training sessions, in reflecting on previous experiences, in planning, in experimenting, in making contacts. As a 94 year old organization, War Resisters League has been training for, and doing, nonviolent direct actions since the 1940's. We ground ourselves in what groups around the world, in the War Resisters International community, have done and how they have done it. We do not try to present a definitive model, but to suggest methods that have worked in various contexts, that can be adapted by creative nonviolent activists in their own situations. We want to share these lessons with you.
ORGANIZING EFFECTIVE ACTIONS
The Handbook for Nonviolence Campaigns includes a section on Organizing Effective Actions. The Handbook can be found online here or purchased here. While all 14 articles are helpful, we encourage you to particularly pay attention to these three:
1. Roles before, during and after and action: Here is a list of tasks that together make an action possible.
2. Legal support here includes tasks to do before and during an action and after arrests. The Legal section of the agenda below also has important information for organizers as well as trainers.
3. Action evaluation here allows us to learn from our experiences and is important to strengthen out campaigns.
Organizers and trainers need to work together to make sure that the Nonviolent Direct Action Preparation Agenda (see below) meets the need of those who are preparing for the action.
TRAININGS
There is an increased demand for nonviolence trainings. Exactly what is needed depends on the goal and experience of the participants.
Possibilities include:
Introductions to nonviolent social change/nonviolent action
How to organizing strategic nonviolent campaigns
Nonviolent direct action preparation.
Training may include learning from the history of nonviolent social change and learning specific skills such as group facilitation. Training is a participatory process preparing people for action. It takes time to do this. While an introduction to nonviolent action can be a two hour workshop, preparation to engage in nonviolent direct action takes longer to ensure people know their rights and understand what it means to risk arrest if that is their choice.
For more on Nonviolence training and role of trainers, click here.
For Tasks and tools for organizing a training, click here.
 
NONVIOLENT DIRECT ACTION SPEAKERS & TRAINERS
War Resisters League offers speakers and training on a range of topics. Please contact us at wrl [at] warresisters.org if you are interested in hosting a speaker, or organizing or attending a training.
If you have experience as a nonviolence/direct action trainer and would like to be added to our Trainers Directory, contact Joanne Sheehan at joanne [at] warresisters.org.
"I learned that you can really fight the powers-that-be with nonviolent action and coordinate how effective we can be through training,"
-Julian Larson, LGBTQ +Youth Kickback, at WRL's Training for Trainers
For more testimonials from powerful organizers who attended WRL's Training for Trainers: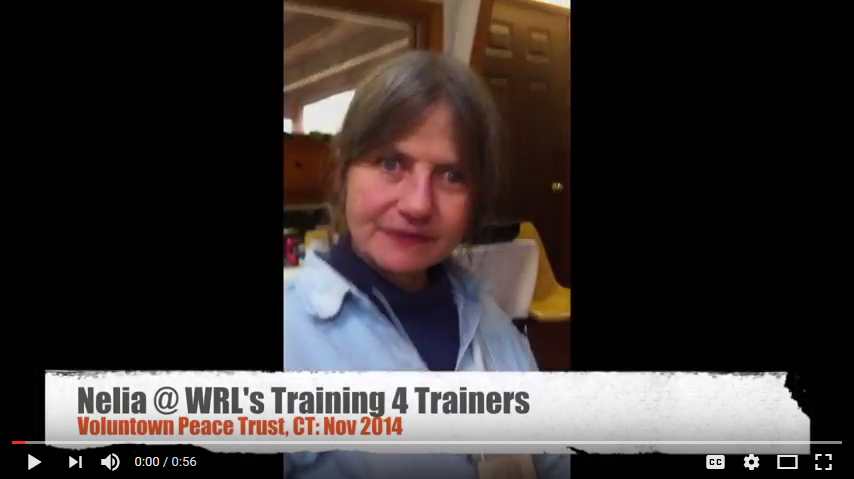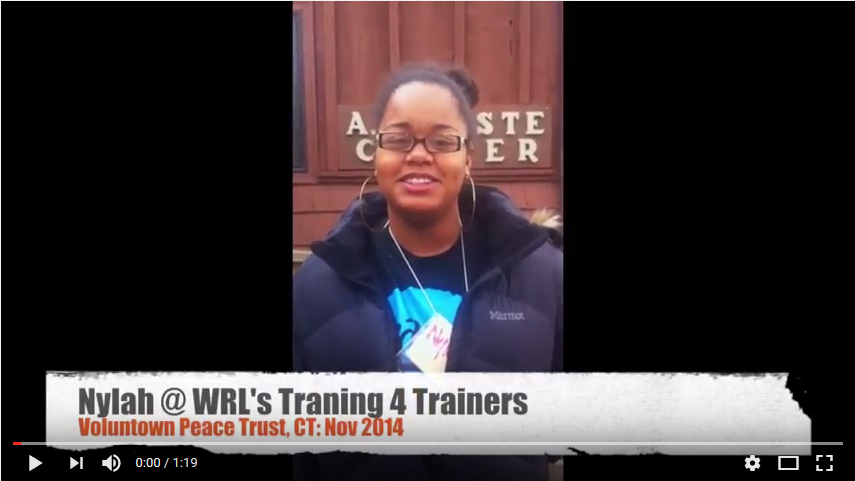 TRAINING RESOURCES
Nonviolence Training: Nonviolent Direct Action Preparation Agenda

When organizing for direct actions, you need to create a strong Preparation Agenda. WRL offers an annotated agenda for trainers to prepare people who are considering engaging in nonviolent direct action and for people who want to participate in nonviolent actions but not risk arrest.
This agenda includes links to handouts and resources, as well as:
Exploring what is meant by nonviolent direct action (NVDA)
An overview of the scenarios and the action structure
Understanding your rights and the potential consequences of nonviolent direct action, including the arrest process.
 
Learning from the Nashville Campaign Workshop Agenda
This two hour workshop shows the power of nonviolence training, how strategic planning was used in the struggle against racial segregation and how it can be used today. Using the film "Nashville: We Were Warriors" from the series "A Force More Powerful", followed by exercises, participants explore how to develop strategic nonviolent campaigns.
Exercises that help us learn from the history of strategic nonviolent action and begin to practice nonviolent action:
PLANNING NONVIOLENT CAMPAIGNS
Demonstrations alone do not usually create the change we want. We often go from recognizing a problem to marching against it. Such protests should be seen as the first step in bringing the issue into the public arena and gaining support. But we need to know how to escalate into nonviolent campaigns, including  organizing effective actions, from there.
Influencing change may require several campaign. (Note that a movement is a cross section of groups and campaigns and activities that includes the use of multiple tactics to reach a common vision, (i.e. the Civil Rights Movement, the climate change movement). Campaign are engaged in by groups and allies with a common understanding and aparticular goal. They are made up of a series of actions and activities that strategically work towards achieving that goal (i.e. Montgomery Bus Boycott, campaigns to stop particular pipelines).
Here is more on Planning Nonviolent Campaigns.
"Steps in a Campaign" is a resource that can be used in many ways, depending on the needs of the group.  It is intended to help people move together in a non-hierarchicial, inclussive process to a deeper understanding of how to develop effective campaign strategies. A facilitator should assist them through the process, using the questions and exercises. This should be given as a handout to the participants and used to create the agenda. A group may need to start at the beginning, to collectively name and describe the problem.  Even if a group is further along in their process, it is important to review what they have done to create their goals before moving into the "Steps to reach the goals". If the group is in the early stages of a campaign, they should focus on the process of base building and empowerment in the first sessions. While they should have an understanding of the whole process, they should not be determining tactics until they have answered the foundational questions.
WORKSHOP CURRICULA
We also produce, often in collaboration with other activist groups, a number of curricula for workshops, including:
Movement Building for Allies
A facilitators' manual for a workshop intended for white activists working in groups within the peace movement and other anti-militarist movements who want to deepen their understanding of how to do strategic organizing using an anti-oppression and cross-movement approach.
 
For more workshops on police militarization, military budgets, and more: click here!
Check out WRL Online Store for more resources, including handbooks and organizing guides.