Summer 2011
WRL Celebrates Release of Two Antimilitarist Resources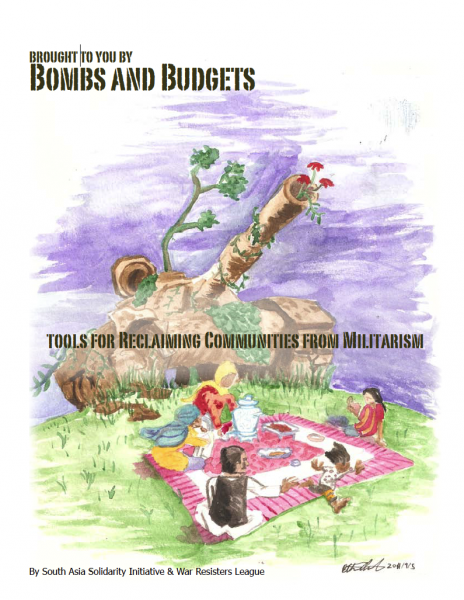 On June 28, WRL and the Ya-Ya Network, a youth-led antimilitarist organization based in New York City, launched a new counter-recruitment leaflet, "Know Before You Go: 'Cause There's No Reset Button." Written by youth organizers for people doing counter- military recruitment work, "Know Before You Go" breaks down the military contract and what it means to join the military in accessible language. This leaflet provides new statistics about sexual assault in the military and racial disparities among those chosen to become military officers. A Spanish-language version will also be available soon.
When asked why he got involved in this project to create a youth-friendly counter-recruitment leaflet, Ya-Ya staffer Khaleeq Alfred said, "I wanted to serve the youth. We want youth to know all there is to know before joining the military— exactly what you're getting into. Hopefully, they'll decide it's not the right course and we can give them alternatives." A version of the leaflet is available for download at www.warresisters.org/store.
On September 7, the WRL National Office released a popular education curriculum for use during the month leading up to the commemoration of 10 years of the U.S. war in Afghanistan: Brought to You by Bombs and Budgets: Tools for Reclaiming Communities from Militarism. WRL, along with organizations including Afghans for Peace, Iraq Veterans Against the War, Military Families Speak Out, Washington Peace Center, Peace Action, and United for Peace and Justice, released this curriculum as a part of Decade of War Awareness Month. Learn more about Decade of War Awareness Month at warvoices.org. This workshop is for U.S. economic justice organizations that want to connect their organizing against cuts and poverty wages to the struggle against U.S. militarism and develop their organizing strategies. If you're interested in using this training for work in your local community, contact WRL at ali [at] warresisters.org. The curriculum is available for download at www.warresisters.org/warvoices.
WRL National Committee Meets
The War Resisters League's highest decision-making body met August 12–14 in New York City. The meeting was fast-paced and electric, as we welcomed six new members to the National Committee: Prachi Patankar, Rosalie Riegle, Jason Ahmadi, Jose Vasquez, Hallie Goertner, and Sky Hall. (See bios of our board members.) We're thrilled to have these strong organizers as new additions to WRL .
There was much ground to cover during a short time, but we made the most of the time we had together. First, we took clear steps forward as an organization in our strategic planning process. Last summer, we hosted long-time white antiracist activist and movement leader Suzanne Pharr, who helped us kick off the beginning of our strategic planning. We collectively defined WRL 's theory of change (local and global, grassroots, nonviolent, led by those who are most affected by militarism) and evaluated our work as an organization over the last few years. At this meeting, we talked about the criteria for our program work—how we decide on the projects we prioritize with our staff's time and other organizational resources. We will continue this discussion at our winter NC meeting, as we intend to move forward with carving out a clear set of goals for our work and the means to get there. Together, we will build WRL 's path to ending war and militarism— because we want to win!
Other topics and issues discussed at this summer's meeting included startup planning for WRL 's 90th anniversary concert, a national conference in 2013, and other anniversary-related projects; the 2012 release of an exciting new antimilitarist and antiracist anthology of essays, co-published by PM Press and War Resisters League; and marking the end of the WRL Peace Calendar with the release of a new perpetual calendar in 2012, which will include many important dates throughout the history of our movements for social change. More information about these projects will be coming in the months ahead.
Remembering Tuli for WRL
Photo by Lawrence White
A year and a day after the pacifist anarchist poet, songwriter, and cartoonist Tuli Kupferberg "left the planet," people gathered in the Bowery Poetry Club to honor his memory and to raise money for Tuli's favorite organization, the War Resisters League.
Organized and hosted by poet and member of the New York group "The Unbearables," Sparrow made the opening tribute, followed by a parade of poems, accolades, songs, and more from other "Unbearables" and bearable friends including poet and longtime WRL friend Bob Holman. New WRL National Committee member Sky Hall, who knew Tuli during his last years, played cell phone messages received from him during those years, including a recording one of Tuli's famous "preverbs," reworking of old proverbs and maxims. The audience was moved and delighted to hear Tuli announce that "a fool and his money are soon President."
More Stylish Than We Dreamed
Photo by Ellen Davidson
Life at the Catholic Worker was like Jonah House," said The New York Times. "The work was intense and purposeful, which [Frida] loved. She planned to stay for years, until she started spending time with Patrick Sheehan- Gaumer, an old friend and a fellow member of the War Resisters League."
Peace, love, and WRL made it into the pages of the Times Style Section July 15 when the "Vows" page featured the love story of our own Frida Berrigan and Patrick Sheehan-Gaumer.
Frida and Patrick are both lifetime peace activists and members of WRL 's National Committee. They were married on June 11 in front of 300 friends, family members, and comrades during a big, communal "union party" at Camp Happyland in Prince William Forest Park near Manassas, Virginia.
The wedding wasn't a surprise to those at WRL who had worked closely with Frida and Patrick for years—but the coverage of it, in a long, sympathetic dual profile in the Style section, was. The Times may have seen their union as newsworthy because they are the daughter and son, respectively, of Plowshares activists Liz McAllister and the late Phil Berrigan and WRL New England Regional Office co-founders Joanne Sheehan and Rick Gaumer, but whatever the reason, the piece was the most intensive look at pacifism the paper has seen in a long time. It included long, warm descriptions of their relationship with each other and with Patrick's four-year-old daughter Rosena, their courtship—and their family backgrounds and their own work with WRL , the Catholic Worker, and Witness Against Torture. It quoted Frida as saying, "If you're going to be involved in seemingly futile undertakings, you might as well do it with someone you love."
It was a lovely article, without a snide or critical word. Yet despite its wealth of detail about the pacifist lives and commitments of the newlyweds, it inexplicably omitted any mention whatsoever of the WRL Track Club, which Frida and Patrick cocaptain. This magazine will not be guilty of the same error—see below.
Report from the Track Club
The War Resisters League Track Club was at it again in September, running the New Haven 20K on Labor Day.
Seven members of the Club took to the streets, completing a 12.4 mile course that wound through New Haven's many neighborhoods. Frida Berrigan and Patrick Sheehan-Gaumer of New London, Sarah Brook of Brooklyn, Mike Levinson of the Westchester Adirondacks, Matt Mercier of New York City, and Tanya Theirault and Matt Vogel of New Haven made up the stalwart team. Our finish line times varied from very good to fairly slow, but everyone finished and brought the message of peace, justice, and no more war to a new and open audience.
The Marines were positioned right behind the finish line, giving out bottled water. (Someone hypothesized that it was left over from Hurricane Irene relief work.) So, as the members of the Track Club crossed the finish line, we camped out right in front of them, trying—albeit damply and with some fatigue—to be an energetic and principled counterpoint to their martial muscle.
We do not have another race scheduled, but original Track Club member Mike Levinson has now graduated from running the races to organizing cheerleading at any upcoming runs. If you want to know about scheduled races or suggest a race, please contact co-captains Frida Berrigan and Patrick Sheehan- Gaumer by emailing frida.berrigan@ gmail.com.
Finally, we are out of our iconic tee shirts, but if we hear enough demand we will make another round. Let us know if you would buy one and we'll try and accommodate you.
—Frida Berrigan