"Other histories had been possible for Iraq, and indeed might yet be possible. The social basis for the Popular Movement to Save Iraq remains, even if in the shadows. It is the only force that could provide an alternative to the history of blood that stands before Iraq, the nest of bones, the sky of death." - Vijay Prashad, from the Foreword 
"The interviews [in Against All Odds] are astounding. Their stories are both harrowing and inspirational. They demand that we get down and seek out the roots of peoples' lived resistance. Here we find the brightest rays of light, in very dark times." - Michael Reagan - Truth-out.org
"Finally we hear voices that are usually sidelined or silenced: voices of people who continue to resist nonviolently and refuse simplistic and polarized positions based on ethnic  and sectarian divisions." - Nadje al-Ali, SOAS: University of London
Order now! Co-published by WRL and Tadween Publishing, we are proud to announce "Against All Odds: Voices of Popular Struggle in Iraq" which is now now available. For over four years, our Field Organizer Ali Issa has been interviewing Iraqi activists and compiling reports from actions: all culminating in this rare collection of cross-movement voices.
Featuring dozens of interviews with and reports from Iraqi feminists, labor organizers, environmentalists, and protest movement leaders, Against All Odds presents unique voices of progressive Iraqi organizing on the ground. Dating back to 2003, with an emphasis on the 2011 upsurge in mobilization, as well as the subsequent embattled years, these voices belong to Iraqis asserting themselves as agents against local, regional and global forces of oppression. 
Worker's justice, gender liberation, anti-imperialism and global solidarity have been on the agendas of many Iraqi organizations, in contrast to almost all media and scholarly representations--even those sympathetic to popular Iraqi struggles. Media and scholarship instead focus on geopolitics, mass violence and sectarianism to the exclusion of attempts at independent political action and imagination in Iraq. With the legacy of war since 1980, followed by the brutal sanctions of the 1990s and the 2003 US invasion and occupation, not to mention the recent emergence of the threatening forces of the Islamic State, understanding and acting in solidarity with these struggles is more crucial than ever.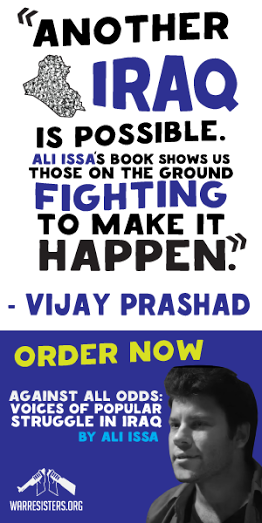 To invite Ali Issa to speak in your community or on your campus e-mail: Ali [at] warresisters.org
Author Bio:
Ali Issa is the National Field Organizer with War Resisters League, where he is co-coordinator of a campaign to end police militarization. He is originally from Iowa and holds a Master's in Arabic Studies from the University of Texas at Austin. His literary translations have appeared in Banipal, the PEN World Atlas Blog, and Jadaliyya where he is a contributor on Iraqi social movements. He is a member of the community funding committee of the North Star Fund, a foundation that provides grants to grassroots community groups. He lives in Brooklyn, New York.