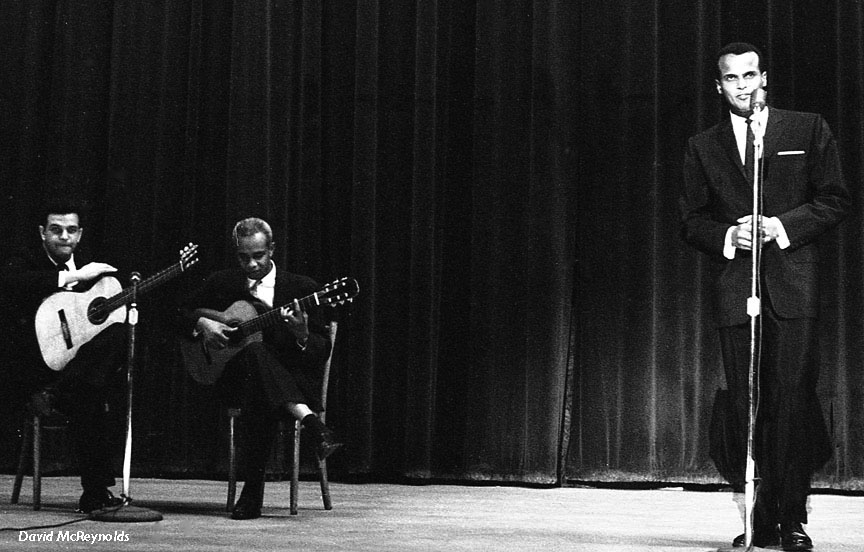 Harry Belafonte stands with musicians at concert to raise funds for the Montomery Bus Boycott, May 24, 1956. (Photo courtesy WRL/David McReynolds Photo Project)
WRL Executive Committee minutes from 1956 have an item on "Non-Violent Work in Race Relations". Bayard Rustin and Ralph DiGia, WRL staff, were tasked with "Assisting in a fund-raising concert to support the nonviolent bus protests in Montgomery and Tallahassee."
WRL was involved, especially through Rustin, with the group In Friendship, which was formed in New York City to send economic aid to the civil rights struggle. In Friendship sponsored the December 5, 1956, concert at the Manhattan Center featuring Coretta Scott King (singing), Duke Ellington, Harry Belafonte, and Tallulah Bankhead. The event raised nearly $2,000 for the boycott committee. A young David McReynolds, still fairly new to NYC, took some photos.
In 2013, WRL honored Harry Belafonte, along with Joan Baez and Daniel Ellsberg, at the 90th Anniversary Gala in New York City. Belafonte was given the Grace Paley Lifetime Achievement Award. The presentation read: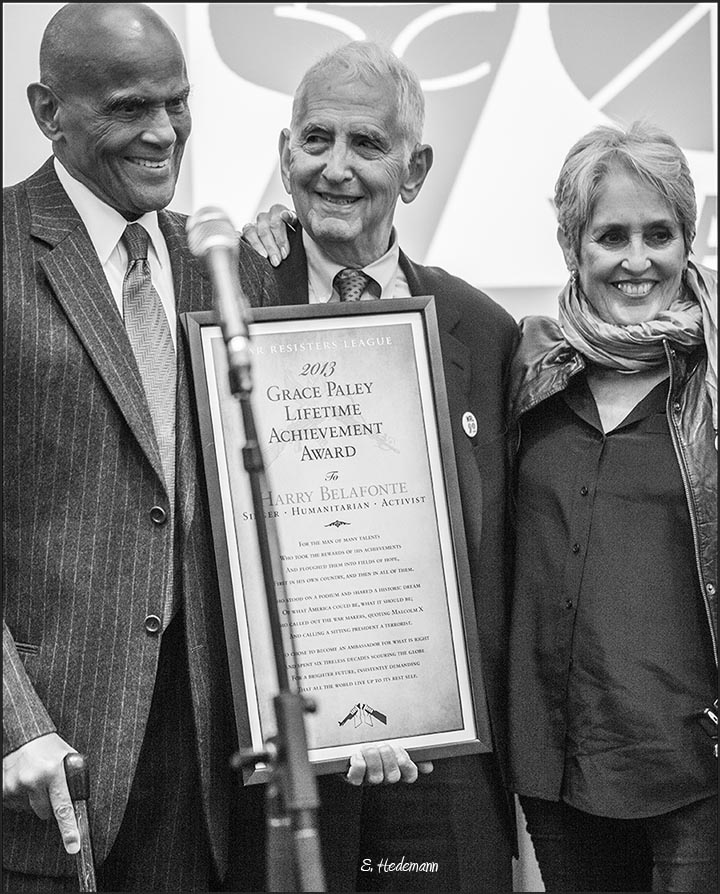 To Harry Belafonte
Singer • Humanitarian • Activist
For the man of many talents
Who took the rewards of his achievements
And ploughed them into field of hope,
First in his own country, and then in all of them.
Who stood on the podium and shared a historic dream
Of what America could be, what it should be;
Who called out the war makers, quoting Malcolm X
And calling a sitting president a terrorist.
Who chose to become an ambassador for what is right
And spent six tireless decades scouring the globe
For a brighter future, insistently demanding
That all the world live up to its best self.
Pictured above: Belafonte holds his Grace Paley Lifetime Achievement award with Daniel Ellseberg and Joan Baez at WRL's 90th Anniversary Gala. (Photo by Ed Hedemann)