Picture of Dorie from the Continental Walk in Los Alamos (1976) (Photo by Ed Hedemann)
Dorleen (Dorie) Bunting passed away August 24, 2023, at 101 years old. From her teenage years until well into her 90s, Dorie was present and active in the peace and justice movement. She touched the lives of many people in New Mexico and around the world.
As a teenager in 1938, Dorie lived with a family in Berlin, Germany and watched the growth of the Nazi party. She committed her first act of civil disobedience by opposing the law of association with Jews. This shaped much of her activism throughout her life, 

"In terms of my feelings about war, the destruction it causes to people, that was heavily influenced by my trip to Germany in 1938,"

Dorie stated in an interview with Joan Bernan in 1994. Dorie became a lifelong

pacifist and an advocate for human rights.
After the war she worked in Italy with war refugees and met her future husband Bainbridge Bunting, a WWII conscientious objector and a Quaker. They married and moved in 1948 to a one room adobe house in Albuquerque, New Mexico. Bainbridge became a renowned architectural historian and a professor at University of New Mexico. He and Dorie built a beautiful, meandering adobe house with plenty of space for their children Meredith, Emily and Findley and as a welcome home and sanctuary for activists from many causes throughout New Mexico.
Dorie started a local chapter of Amnesty International, and campaigned for prisoners around the world. I met her in 1968 after I returned to University of New Mexico from time as a VISTA volunteer. The campus was filled with activism. Dorie showed up for most everything, a tall older woman quietly sitting in the back of the room at many of events.
After a protest I found a flier on the ground from the War Resisters League advocating draft resistance to the Vietnam War. During Christmas vacation in New Jersey I spent a day in New York visiting the offices of WRL and Catholic Peace Fellowship. WRL sent me a list of members from New Mexico, the name Dorie Bunting seemed familiar. I contacted her about forming a WRL chapter and began working with her on a regular basis. Dorie seemed so much older than my 23 years although she was probably in her 40s! We agreed to start a WRL chapter in Albuquerque which became the WRL/Southwest regional office.
We promoted nonviolence and opposition to the Vietnam War. Dorie encouraged me to read about Gandhi and the life of John Woolman and the history of nonviolent action. After the War in Vietnam ended,  Dorie and WRL also helped form the New Mexico Peace Conversion Project. We held study groups at Dorie's house. Dorie was a key organizer of demonstrations in Albuquerque and Los Alamos when WRL's Continental Walk came through in 1976. With Dorie, WRL played a major role in the formation of the Mount Taylor Alliance - opposing uranium mining in the Navajo Reservation - and worked to stop the building of WIPP.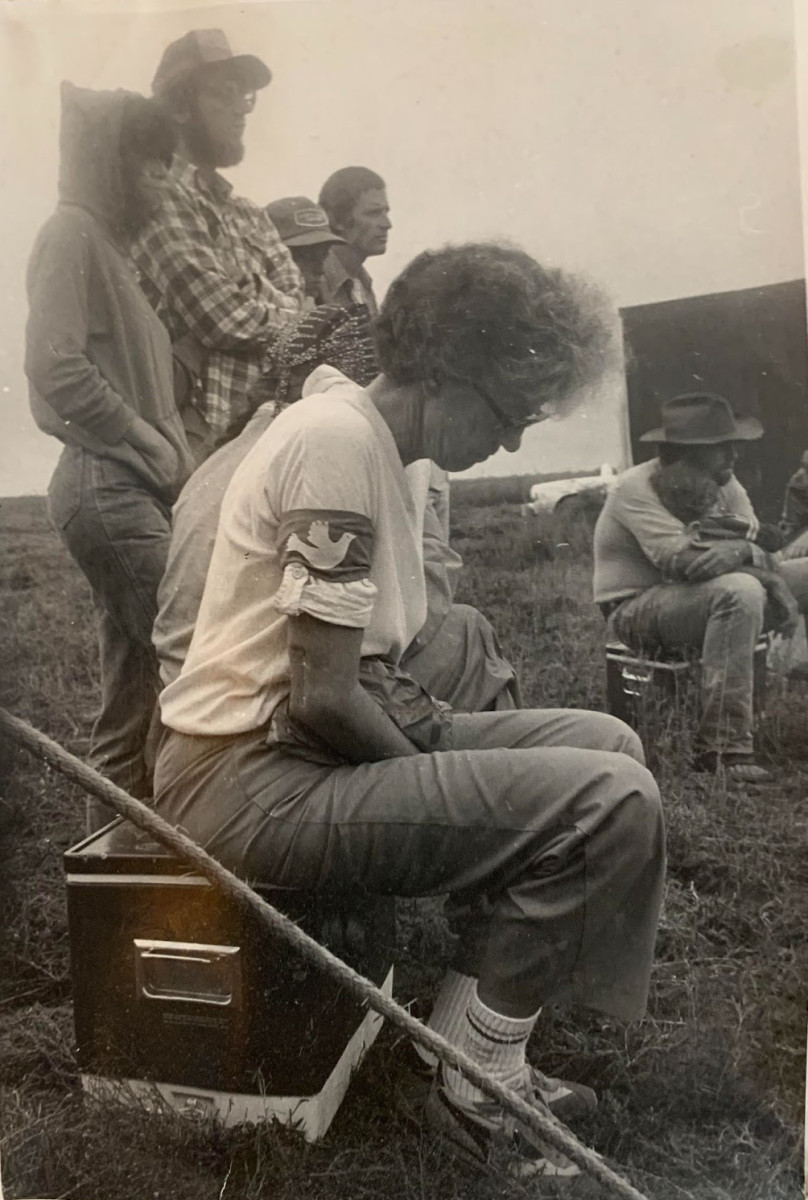 Soon after the death of her husband Bain in 1981, the Mount Taylor Alliance called a major civil disobedience in Carlsbad. Twenty people were arrested, including Dorie — her first civil disobedience action since disobeying German anti-Jewish laws in 1938. In an article for WRL News (Nov./Dec. 1981) she says:
This being my first act of civil disobedience, I am most impressed with it as a means of jarring others to think by confronting them with acts contrary to their usual or expected behavior. Channels of communication are opened with officials and people who are stimulated to see things in a new light. Que viva la no-violencia!
Dorie at WIPP Civil Disobedience (Photo by Helen Vozenik)
I left New Mexico around this time, while Dorie continued her activism - supporting the Sanctuary Movement and helping to found the Albuquerque Peace and Justice Center in 1983. She was active into her 90s - in later years with help from her daughter Meredith, who drove her to meetings and rallies. On Dorie's 100th birthday in 2022 a huge dinner was held in Albuquerque in her honor, attended by most of the peace and justice community and with tributes in the local media. The Albuquerque Peace and Justice Center carries on Dorie's legacy today. A memorial is scheduled for September 27, 2023.
Dorie was a mentor and a kind and wonderful person. She influenced me and many others about activism, nonviolence and opposing all war.
- blog post by Craig Simpson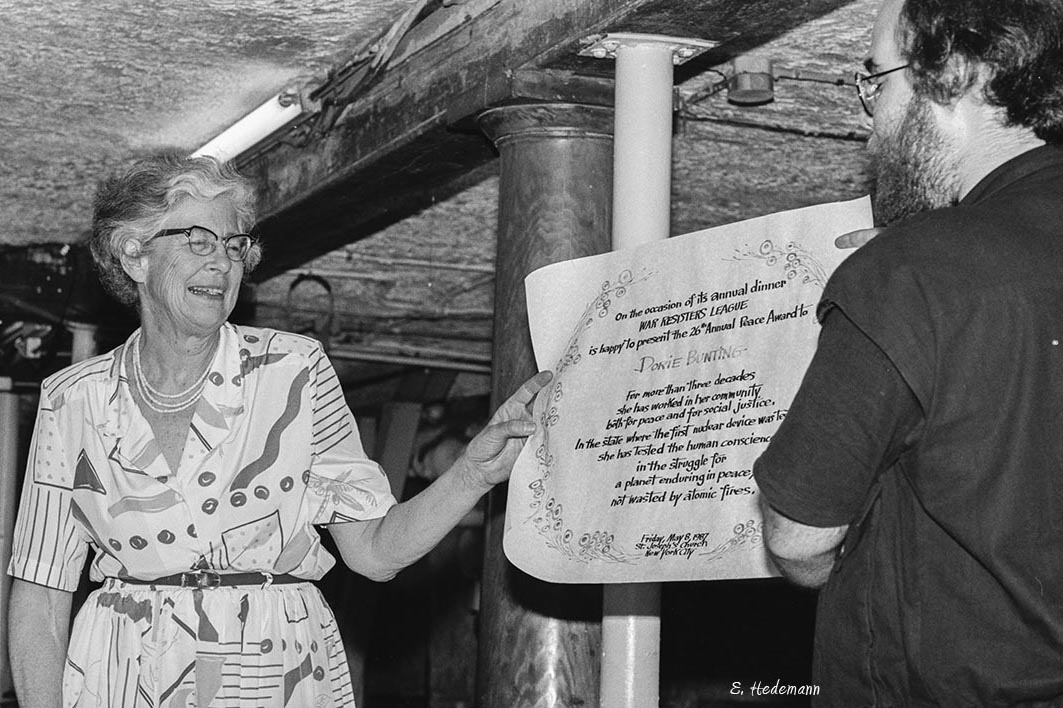 In 1987 Dorie received WRL's 26th Annual Peace Award at a dinner in New York City. (Photo by Ed Hedemann)
The scroll read:
For more than three decades
she has worked in her community
both for peace and for social justice.
In the state where the first nuclear device was tested,
she has tested the human conscience
in the struggle
for a planet enduring in peace,
not wasted by atomic fires.
Read More: 
Read Craig Simpson's full piece on Dorie BuntingWRL 1991 Peace Calendar
Read Profile on Dorie from the WRL 1991 Peace Calendar
Read Civil Disobedience at WIPP in New Mexico by Dorie Bunting from WRL News: